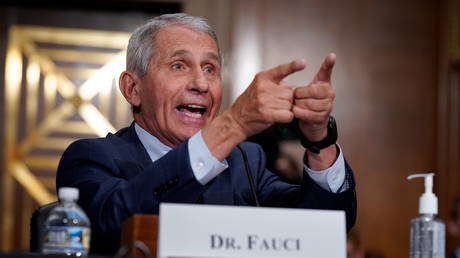 Senator Rand Paul (R-Kentucky) is asking federal prosecutors to hold Dr. Anthony Fauci accountable for allegedly perjuring himself in congressional testimony over funding research that made an animal virus transmissible to humans.
"I will be sending a letter to the Department of Justice (DOJ) asking for a criminal referral because he has lied to Congress," Paul said on Tuesday night in a Fox News interview.
The statement came hours after Paul sparred with Fauci, chief medical adviser to President Joe Biden, in a fiery Senate hearing over the Covid-19 pandemic. Fauci denied lying to Congress when he testified in May that the US National Institutes of Health (NIH) never funded so-called gain-of-function virus research at China's Wuhan Institute of Virology.
Paul cited a paper by a Wuhan scientist on research into bat coronaviruses, funded by the NIH, and noted that it had been reviewed by MIT biologist Kevin Esvelt, who concluded that "certain techniques that the researchers used seemed to meet the definition of gain-of-function."
Yes, Dr. Fauci's NIH did fund the Wuhan Virology Lab. Here's the verbatim admission from their chief scientist Dr. Shi Zhengli. pic.twitter.com/wk5mzeLWHR

— Senator Rand Paul (@RandPaul) July 20, 2021
Fauci reiterated that the research wasn't gain-of-function, as the NIH has also claimed, and told Paul, "You do not know what you are talking about, quite frankly, and I want to say that officially." He went on to accuse the senator of lying, saying Paul was suggesting that the NIH-funded research created Covid-19. Paul argued that Fauci was creating a straw man, repeatedly pointing out that he wasn't saying the viruses in question caused the pandemic.
Also on rt.com 'You don't know what you're talking about!': Fauci LOSES IT with Sen. Rand Paul over Wuhan lab funding accusations
Lying to Congress is a felony punishable by up to five years in prison. Referrals to the DOJ by members of Congress are non-binding and often lead to nothing. Paul argued that there's no question that the research in question is the epitome of gain-of-function.
"We have scientists that will line up by the dozens to say that the research he was funding was gain-of-function," the senator told Fox. "He's doing this because he has a self-interest to cover his tracks and to cover his connection to Wuhan lab." He added that regardless of whether it's proven that Covid-19 originated in the Wuhan lab, Fauci is "lying about whether or not he funded gain-of-function research, and yes, he should be punished." (RT)
Azərbaycan24 sosial şəbəkələrdə
Whatsapp xəttimiz -
070 224 40 25