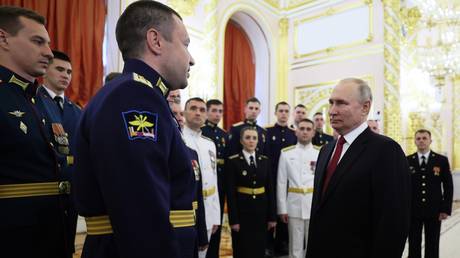 Moscow will strengthen its nuclear triad and equip its troops with cutting-edge weapons, including drones and robots, the president has said Russian President Vladimir Putin meets militayr academia graduates in Moscow, Russia, on June 21, 2023. © Sputnik / Gavriil Grigorov
Strengthening the armed forces is one of Russia's top priorities, President Vladimir Putin said at a meeting with graduates of military academies in Moscow on Wednesday. The nation's military will evolve on the basis of the "priceless experience" provided by the ongoing military operation in Ukraine, as well as the modern challenges Russia is facing, he added.
Russia's nuclear triad will remain a focus of the military development efforts, Putin said, adding that it remains "a key guarantee of Russia's military security and global stability." Around half of Russia's strategic land-based missile units have already been equipped with state-of-the-art Yars missiles – some of Russia's most modern nuclear intercontinental ballistic missiles, Putin revealed.
The troops also continue to receive the hypersonic Avangard gliders, the president said. Such systems are fitted on silo-based ICBMs. The military will also be further supplied with hypersonic anti-ship Zircon missiles, to be used by the Navy, as well as air-launched Kinzhal hypersonic missiles. New Sarmat heavy intercontinental ballistic missiles are also about to enter combat duty, Putin added.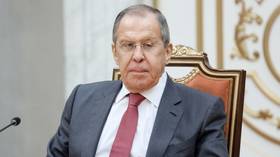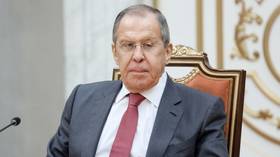 Read more
Let NATO fight, Russia is prepared – Lavrov
The modernization will not be limited to nuclear weapons only, the president explained. Heavy armor, air defense systems, and the production of drones will all be upgraded, he said. "We have yet to do much for a quality upgrade of all parts of our Armed Forces," Putin said, adding that Russia "is delivering on those plans to the fullest."
The Russian defense industries in particular are expected to "boost mass production" of drones and "robotized strike systems" that have "demonstrated good results in combat," the president said. According to Putin, every Russian military unit down to a platoon should be equipped with such systems.
His words came a day after Russian Foreign Minister Sergey Lavrov said that Moscow is potentially ready for a conflict with NATO if the military bloc decides to attack Russia. "Well, let them fight, we are ready for this," he said.
Putin has described the conflict in Ukraine as a hybrid war between Russia and "the entire Western military machine."
The statements came amid the continued Ukrainian offensive, which was launched earlier in June. The operation had been touted by Ukrainian and Western officials for several months but has so far failed to yield any major results. According to the Russian Defense Ministry, Kiev's troops have suffered heavy casualties in their attacks on Russian positions. NATO chief Jens Stoltenberg also described the Russian defense as "well prepared." (RT)
Azərbaycan24 sosial şəbəkələrdə