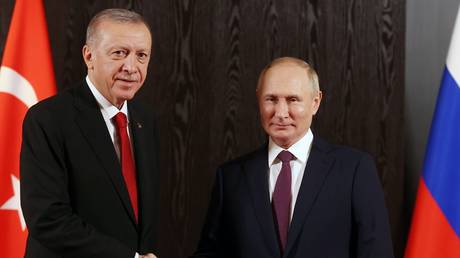 The Russian president paid tribute to his counterpart's "independent foreign policy" after he won reelection Vladimir Putin (r) shakes hands with Recep Tayyip Erdogan at the Shanghai Cooperation Organisation summit in Samarkand, Uzbekistan, September 16, 2022 © AP / Alexandr Demyanchuk
Russian President Vladimir Putin congratulated Turkish President Recep Tayyip Erdogan on winning a third term in office on Sunday. Putin thanked Erdogan for his "personal contribution" to strengthening relations between Russia and Türkiye.
"Your victory in the elections was a natural result of your selfless work as head of the Republic of Türkiye, and is clear evidence of the Turkish people's support for your efforts to strengthen state sovereignty and pursue an independent foreign policy," Putin wrote in a message to Erdogan.
"We highly appreciate your personal contribution to the strengthening of friendly Russian-Turkish relations and mutually beneficial cooperation," Putin continued, noting the construction of Türkiye's first nuclear power plant and the creation of a new gas hub as two significant joint projects.
"From the bottom of my heart I wish you new successes…as well as good health and well-being" Putin concluded.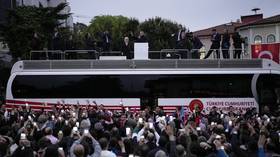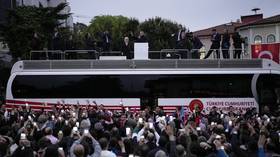 Erdogan declared victory on Sunday night after beating challenger Kemal Kilicdaroglu in a runoff election for the presidency. With more than 99% of ballots counted, Erdogan led Kilicdaroglu by 55.12% of the vote to 47.88%, according to the latest tally from Türkiye's Anadolu Agency.
The Turkish president's foreign policy – described by Putin as "independent" and Erdogan himself as "balanced" – has seen Türkiye strengthen ties with Russia and China while pushing its NATO allies for concessions, as Erdogan did when he demanded Sweden and Finland lift arms embargoes on his country and deport terror suspects before he would sign off on their accession to the alliance.
Türkiye is the sole NATO member that has not imposed sanctions on Russia over its military operation in Ukraine, and Erdogan has taken a neutral stance on the conflict. Under his leadership, Türkiye hosted peace talks between Moscow and Kiev last year, and brokered the Black Sea Grain Initiative.
The relationship has not been without its difficulties. Despite Erdogan's declaration that Türkiye wants a peace deal in Ukraine "as soon as possible," Ankara has sold Bayraktar TB2 strike and reconnaissance drones and Kipri mine-resistant armored vehicles to Kiev, prompting a rebuke from Moscow this week.
"Arms and military equipment supplies to the Kiev regime…are at odds with the role of a mediator," Russian diplomat Yury Pilipson told RIA Novosti on Saturday.
However, Erdogan's victory means the continuation of stable relations between Moscow and Ankara. Erdogan and Putin have known one another for decades, and have met on multiple occasions since the conflict in Ukraine began. Kilicdaroglu, on the other hand, baselessly accused Russia of meddling in this month's elections and promised closer alignment with the EU and NATO.
"You need a balanced approach towards a country such as Russia," Erdogan told CNN earlier this month, adding that "we are a strong state and we have a positive relationship with Russia." (RT)
Azərbaycan24 sosial şəbəkələrdə