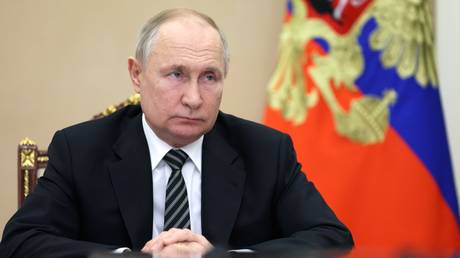 The Russian president has accused the West of using bigotry to maintain dominance Russian President Vladimir Putin © Sputnik / Gavriil Grigorov
The West is fomenting religious hatred and intolerance to "divide and conquer" the world, to maintain a "new world order" that amounts to dominance and colonialism, Russian President Vladimir Putin said on Wednesday.
Meeting with leaders of Russia's religious communities at the Kremlin, Putin addressed the current conflict in the Middle East and warned that "Islamophobia, anti-Semitism, and Russophobia" were being used as weapons against a multipolar world.
"The West sees how the process of forming a multipolar world order is gaining momentum. And in order to restrain the development of independent, sovereign countries, to split the world majority, they use the same means," Putin said. These forces want "the epidemic of violence and hatred" to engulf not just the Middle East but to Eurasia, he warned.
"Muslims are being set against Jews, calling for 'war with the infidels'. Shiites are pitted against Sunnis, Orthodox Christians against Catholics. In Europe, they turn a blind eye to blasphemy and vandalism against Muslim shrines. In a number of countries, Nazi criminals and anti-Semites, with the blood of Holocaust victims on their hands, are openly glorified at the official level. In Ukraine, they are moving towards banning the canonical Orthodox Church and deepening the church schism," Putin said.
The goal of all those actions is to "increase instability in the world, to divide cultures, peoples, world religions, and to provoke a conflict of civilizations," the Russian president added. "Meanwhile, they talk about some kind of 'new world order', whose essence hasn't changed: hypocrisy, double standards, claims to exclusivity, to global dominance, to the preservation of an essentially neocolonial system."
Putin expressed condolences to all Israelis who lost family members in the October 7 attacks, but warned that "innocent people should not be held accountable for crimes committed by others," and that the fight against terrorism "cannot be carried out according to the notorious principle of collective responsibility." (RT)
Azərbaycan24 sosial şəbəkələrdə