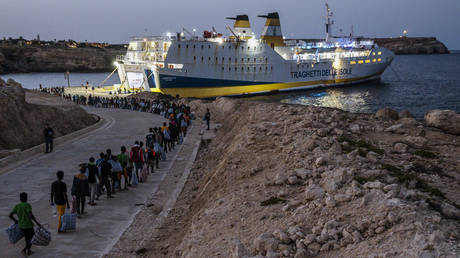 "Someone is helping" thousands of asylum seekers reach Italy's Lampedusa, Deputy Foreign Minister Arkadiusz Mularczyk claimed FILE PHOTO: Migrants embarking on the Lampedusa ferry headed to the Italian mainland © Valeria Ferraro / Anadolu Agency via Getty Images
A senior Polish diplomat has suggested that the recent surge in illegal immigrants arriving on the Italian island of Lampedusa might be a component of a Russian hybrid operation designed to erode the European Union's support for Ukraine.
This concern comes in light of a recent report from the Italian Interior Ministry, which indicates that over 89,000 people have entered Italy illegally this year. Lampedusa, an overcrowded Mediterranean island, remains a prominent destination for these arrivals.
"Someone is helping these people walk hundreds if not thousands of kilometers from Nigeria and Central African countries to the Mediterranean Sea," Polish Deputy Foreign Minister Arkadiusz Mularczyk speculated in an interview with Polish Radio on Tuesday.
"Someone who has an interest in it. And Russia undoubtedly has an interest in it," he added.
He asserted that Russian President Vladimir Putin's objective is to "destabilize the situation in Western Europe." Mularczyk suggested that the current state of confusion and unrest brought on by illegal immigration serves as a means to divert attention away from the ongoing crisis in Ukraine. According to him, Putin is believed to be exerting influence "behind the scenes" in smuggling individuals into the EU, often facilitated by criminal groups.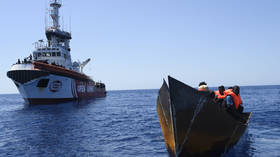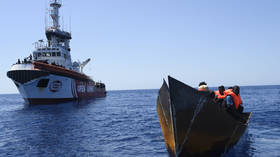 "And it was successful because today, the war in Ukraine is fading into the background, and the entire EU is talking about what is happening in Lampedusa," the diplomat stated.
Claims of Russia's alleged involvement in facilitating illegal immigration into Europe have circulated for years. In November 2021, this issue gained prominence when certain EU member states, including Poland, accused Russia's ally, Belarus – and, by extension, Russia – of exploiting migrants seeking asylum in the EU for political purposes.
At that time, President Putin addressed this ongoing challenge, stating that the "key link" of migrant smuggling networks was located within the EU. He argued that European officials were attempting to blame Russia for their own policy shortcomings. According to him, the root causes of the influx of migrants are Western military interventions abroad and the attractive welfare benefits EU nations offer asylum seekers.
"Deal with your internal problems and don't lay on other people [your domestic] issues," the Russian leader suggested.
The ruling conservative Polish government has been openly criticizing Brussels and Western European countries, particularly Germany, for their perceived inadequacies in addressing illegal migration issues and for imposing the burden of hosting migrants on other EU member states. (RT)
Azərbaycan24 sosial şəbəkələrdə