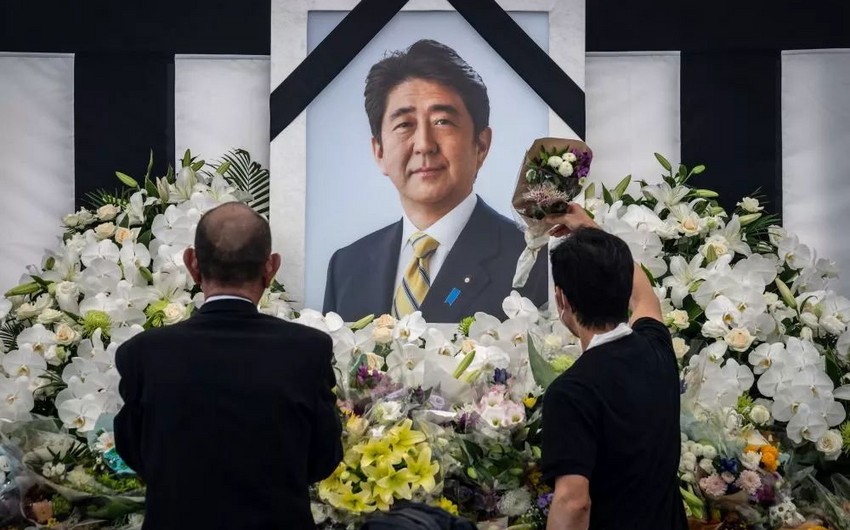 A state funeral for former Prime Minister Shinzo Abe began in Tokyo on September 27 amid tight security, with more than 4,000 mourners in attendance, despite mounting opposition to the controversial ceremony for the country's longest-serving leader, Report informs referring to The Mainichi.
Ahead of the state-funded event, the first of its kind for a former premier in 55 years, calls for its cancellation have grown. Critics have said it lacks a legal basis while citing Abe's complicated political legacy for their opposition.
The funeral is set to cost the taxpayer more than 1.6 billion yen ($11 million).
During the postwar period, Japan had only held a state funeral for a former premier once. The honor was given in 1967 to former Prime Minister Shigeru Yoshida, who led the country's recovery from World War II.
A private funeral for Abe took place four days after he was fatally shot during an election campaign speech on July 8 in the western city of Nara by a lone gunman. His remains were cremated.
The National Police Agency has mobilized up to 20,000 officers to enforce strict security in the capital and particularly around the Nippon Budokan hall where the ceremony was held.
At a park near the venue, meanwhile, large numbers of people gathered to lay flowers at a set of stands from early in the morning.
Opponents of the funeral have repeatedly held rallies in front of the prime minister's office, parliament building and elsewhere and filed lawsuits demanding that the event be scrapped.
Opposition lawmakers have argued that there is no legal basis for staging a state funeral for a former prime minister, while questions have also arisen about how much the event will ultimately cost.
Dubious ties between the Unification Church, a religious group often labeled as a cult, and the LDP, which Abe headed, have also affected the public mood ahead of the funeral.
Abe's attacker, Tetsuya Yamagami, reportedly said he harbored a grudge against the organization and targeted Abe for his perceived ties to it. In 2021, Abe appeared in a video message aired at an event held by a Unification Church-affiliated group.
Azərbaycan24 sosial şəbəkələrdə