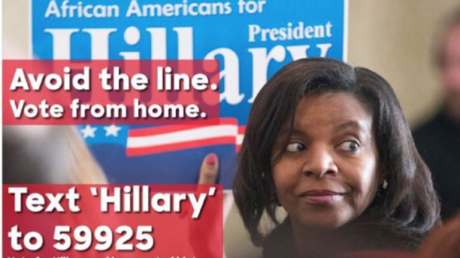 Prosecutors argued that 'Ricky Vaughn' interfered with the 2016 election by making memes about voting for Hillary Clinton by text A meme posted to Twitter by Douglass Mackey in November 2016 © Twitter / @mcnees
A Trump supporter who shared images claiming that voters could cast their ballots for Hillary Clinton by text in 2016 has been convicted of voter suppression. Douglass Mackey, who went by the pseudonym 'Ricky Vaughn,' faces up to ten years in prison.
In the runup to the election, Mackey made a series of posts imitating campaign messages from the Clinton team. One featured an African-American woman – a demographic that overwhelmingly votes Democrat – and the text: "Avoid the Line. Vote from Home. Text 'Hillary' to 59925." A similar post featuring a Hispanic woman and instructions in Spanish was shared by Mackey around this time.
Americans cannot vote by text, but prosecutors said that at least 4,900 numbers texted "Hillary" to 59925.
A jury in New York on Friday found Mackey guilty of Conspiracy Against Rights, after the government argued that these posts prevented people from "exercising their sacred right to vote," according to a press release from the Department of Justice.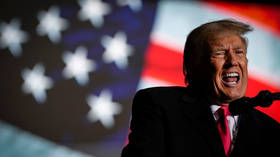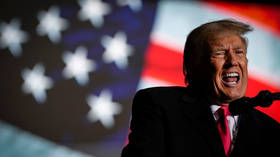 Read more
America, the reality TV show, reaches new depths with Trump's indictment
The case against Mackey was ridiculed by prominent conservatives, with Fox News host Tucker Carlson accusing the Biden administration of prosecuting the 33-year-old because his "online mockery…hurt their feelings." Carlson described the prosecution of Mackey as an "assault on free speech and human rights," pointing out that none of the 4,900 people who allegedly tried to vote from home told the court that they could not remember doing so, and the government's star witness against Mackey was an FBI informant in an online chatroom with the defendant, who could not be questioned in court.
"The only people who should be charged in this situation [are] the people who were dumb enough to try to vote by text message," conservative activist Robby Starbuck said at the time of Mackey's arrest in 2021.
Mackey is due back before the court in August for sentencing, and faces up to ten years in prison. His lawyers said that they plan to appeal the guilty verdict.
(RT)
Azərbaycan24 sosial şəbəkələrdə