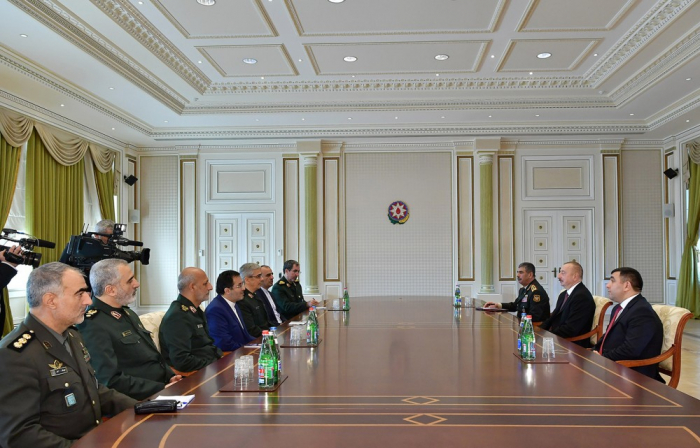 President of the Republic of Azerbaijan Ilham Aliyev today received a delegation led by Chief of the General Staff of the Armed Forces of the Islamic Republic of Iran Major General Mohammad Bagheri.
President Aliyev hailed the successful development of bilateral relations between Azerbaijan and Iran in all spheres, including the military in recent years.
Political relations between the two countries stand at the highest level, said the head of state, emphasizing that over ten meeting held at presidential levels in recent years played a special role in developing in bilateral ties. The president also stressed the importance of mutual visits at various levels in terms of expanding relations between the two countries.
The peoples of Azerbaijan and Iran have been living in good neighborliness for centuries, said President Aliyev, expressing confidence in successful development of friendly and fraternal relations between the two countries in the coming years.
Mohammad Bagheri, in turn, conveyed Iranian President Hassan Rouhani's greetings to President Ilham Aliyev. According to the general, Iran's supreme leader considers it necessary to further strengthen relations between the two countries and peoples.
Bagheri noted that the peoples of Iran and Azerbaijan share centuries-old common history and culture.
He stressed that Iran sees Karabakh as an Azerbaijani land and supports the territorial integrity of this country. "It is unacceptable to change internationally recognized borders by force, Iran always stands by Azerbaijan on this issue," he added.
President Aliyev asked Bagheri to convey his greetings to the Iranian leadership for their support and noted that Azerbaijan praises Iran's fair position on this issue. The president also informed the Iranian general about the facts of destruction of historical monuments in Azerbaijani territories occupied by Armenia.