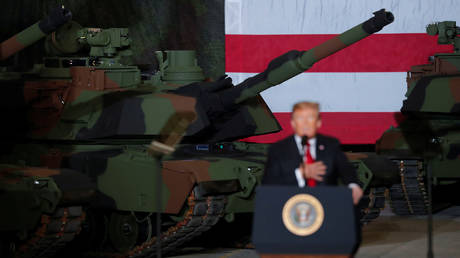 US President Donald Trump pledged a hefty sum of $6 billion to upgrade America's M1 Abrams tanks, lauding them as the best tanks ever built. The statement has more PR value than truth to it, military experts have told RT.
"America does not need conflict. But if conflict comes, and you know the story – you've got to be strong if conflict comes – we will dominate the battlefield, and we will win, win, win. We're now set up to win, win, win," Trump said on Wednesday, as he appeared at the Lima Army Tank plant in Ohio.
Read more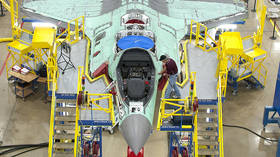 Pentagon doesn't really know how $2.1 BILLION was spent on F-35 parts – watchdog
The facility used to produce the M1 Abrams main battle tanks, and now it will be busy again, as Trump has pledged to pour $6 billion into it over the next three years in order to upgrade the ageing war machines.
The US president praised the plant, its workers, himself and, naturally, the tank, describing it as a true "warhorse" of the US ground forces and dubbing it "the most effective, reliable, and lethal battle tank in the history of war."
"So how does this compare with the tanks made in China and Russia and other places? What do you think? Can we take them? They say it's much better," Trump bragged, as he pretasted the game-changing upgrades.
The assessment raised a few eyebrows, as the M1 Abrams could hardly have attained such a title. Trump's statement, however, is perfectly legit as an over-the-top advertisement for the tank, Viktor Litovkin, a military expert with TASS, believes.
"They have to advertise American weaponry. Trump is making such advertising, yet it's a big question if it really corresponds with the reality," Litovkin told RT.
Azərbaycan24 sosial şəbəkələrdə