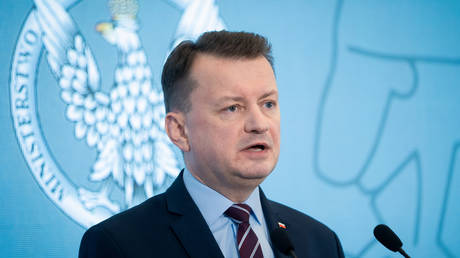 Defense Minister Mariusz Blaszczak says Kiev's grain harms Poland and should not be sold on the domestic market Polish Minister of National Defense Mariusz Blaszczak © Getty Images / Mateusz Wlodarczyk; NurPhoto
Poland's defense minister has blamed Ukraine's oligarchs for the current dispute over grain supplies, and said Kiev cannot be allowed to sell its crops on the Polish market.
"We protect Polish farmers and I can assure you that as long as the Law and Justice party is in power, it will be consistent. Despite the attacks, we are guided by the interests of Polish farmers," Mariusz Blaszczak said on Thursday in an interview with Polskie Radio.
"The idea is for Ukrainian oligarchs to sell grain on the markets where they were supposed to sell, and not on the Polish market, because this harms Poland," he added.
The minister emphasized that despite Warsaw's recently extended embargo on Ukrainian grain, transit shipments through Poland are still permitted.
Blaszczak's comments come after the European Commission decided last week not to extend restrictions on the import of Ukrainian grain to the EU, prompting Poland, Hungary and Slovakia to place unilateral bans on Kiev's agricultural produce.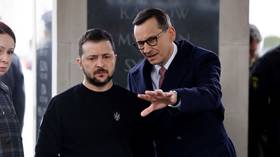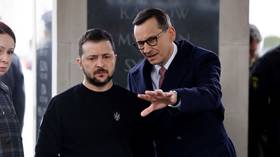 Read more
Poland stops weapons supplies to Ukraine – PM
The three countries insisted that they will not allow Ukrainian grain to be sold in their countries, explaining that the influx of cheap Ukrainian produce would harm their farmers and destabilize the agricultural market.
In response, Kiev said the unilateral embargoes were illegal and filed lawsuits with the World Trade Organization (WTO) against Poland, Slovakia and Hungary while also threatening to place its own bans on fruit and vegetable imports from Warsaw. Ukrainian President Vladimir Zelensky argued that it was "important [to make sure] European unity also works on a bilateral level; that the neighbors support Ukraine."
Following the dispute, Polish Prime Minister Mateusz Morawiecki announced on Thursday that Poland would no longer provide weapons to the Ukrainian military and instead focus on arming its own soldiers with modern weapons. He also threatened additional trade bans on Kiev, given that "Ukrainian authorities do not understand the degree to which Poland's farming industry has been destabilized." (RT)
Azərbaycan24 sosial şəbəkələrdə