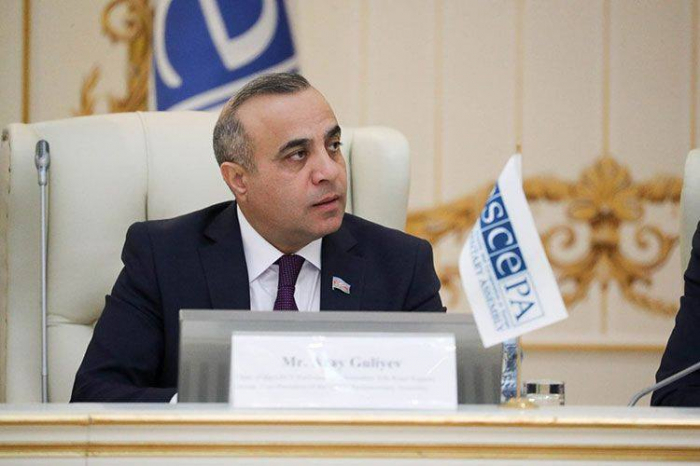 Azerbaijani MP, Head of the Azerbaijani Delegation to the OSCE PA Azay Guliyev addressed a Bureau meeting of the organization.
Guliyev, who is also the Vice President of the OSCE PA, informed the Bureau members of the work done until December 2 wihtin the framework of a Russian-mediated agreement signed between Armenia and Azerbaijan on November 10.
The MP said under the agreement, Armenia withdrew its troops from Azerbaijan's Kalbajar, Aghdam and Lachin districts by December 1.
"Thus, the Azerbaijan's territorial integrity was restored de facto. We have created appropriate conditions for the return of more than 26,000 Armenian refugees to Azerbaijan. In addition, our country will take all necessary measures to ensure that our Armenian citizens enjoy the same rights and opportunities as other citizens of Azerbaijan," he added.
The lawmaker noted that the two countries continue exchanging prisoners of war, hostages and dead bodies.
Guliyev said the Azerbaijani government is currently taking the necessary steps for demining operations in the liberated territories in order to ensure the safe return of IDPs to their homes. "The economic and humanitarian damage caused by Armenia during the occupation of Azerbaijani territories is being assessed. Moreover, a work is underway on a major return plan that will include the reconstruction of all our cities, settlements and villages that have been completely destroyed and devastated during the 30 years of occupation."
The MP stressed that the phrase of the "Nagorno-Karabakh conflict" no longer exists.
"The phrase of the "Nagorno-Karabakh conflict" no longer exists and is used only in reference to history, but much remains to be done to ensure lasting peace in the region and reconciliation between Armenian and Azerbaijan. I am convinced that all groundless territorial claims, hostility and hate speech should remain in the past," he added.
"The South Caucasus region has entered a completely new stage in terms of security, cooperation and prosperity," said Guliyev, calling on the OSCE PA to play an important role in achieving these vital goals.
In his speech, Guliyev also pointed to France's biased stance on Azerbaijan during the 44-day hostilities.