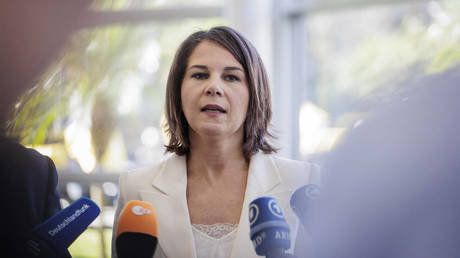 Nations around the world are more concerned with economic issues than a distant conflict, Annalena Baerbock has admitted FILE PHOTO: German Foreign Minister Annalena Baerbock © Global Look Press / IMAGO / Kira Hofmann
Many nations across the world do not share the West's assessment of the ongoing conflict between Moscow and Kiev, German Foreign Minister Annalena Baerbock admitted on Tuesday. According to the minister, the conflict has garnered less interest in many parts of the world and she has even been asked where Ukraine is located on her diplomatic trips.
Instead of focusing on Ukraine, people are blaming Western nations for abandoning them in their own hours of need and accusing the West of caring little about the rest of the world, she said.
"I have heard [this] all over the world: Firstly, 'Where were you when we needed you?' And also, 'Where is the Ukraine actually?'" the minister told an event hosted by the private Brazilian university Fundacao Getulio Vargas (FGV) in Sao Paulo.
People in Latin America and elsewhere "perceive the threat of this war differently than we do in Europe," Baerbock said. Ordinary citizens in Brazil believe the price of "rice and beans… in the supermarket this week is more important than what happens in a country that is 11,000 kilometers away," Baerbock added.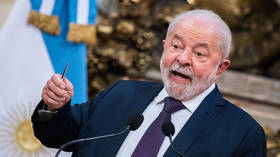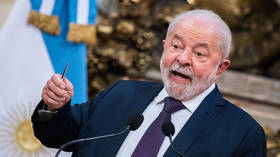 Read more
Brazil blasts West over role in Ukraine conflict
She then claimed that it was the ongoing conflict between Moscow and Kiev that is "driving up the prices of food around the world" and urged Brazilians to help in doing "everything we can to ensure that there is finally peace in Ukraine again."
Brazil's president, Luiz Inacio Lula da Silva, who took office in January, has repeatedly called for peace between Russia and Ukraine. He has insisted the two nations need a mediator to facilitate peace talks. He also presented a vision of an international "peace club" aimed at resolving the conflict during his meeting with Chinese President Xi Jinping in March.
Lula has also been critical of the approach the West took by providing weapons to Kiev. The US and its allies "had the option not to enter the war the way they did," he said in April, adding that Washington and Brussels rushed to support one side of the conflict, "without spending time trying to negotiate."
Kiev and its Western backers have rejected several peace initiatives floated by other nations, including Mexico, China and, most recently, Indonesia. Last week, Indonesian Defense Minister Prabowo Subianto suggested a plan involving a demilitarized zone along the existing contact line between the Russian and Ukrainian troops, monitored by UN peacekeepers. He also proposed holding UN-sponsored referendums to determine the future of disputed territories.
Ukraine immediately branded Jakarta's plan a "surrender" proposal that it said would only benefit Moscow. Russia has maintained that it welcomes all initiatives aimed at achieving peace in Ukraine. (RT)
Azərbaycan24 sosial şəbəkələrdə