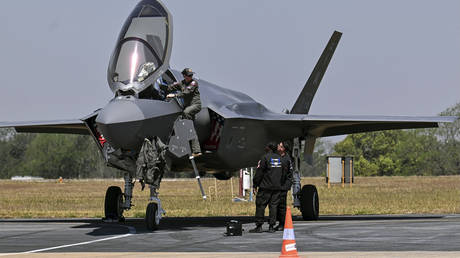 The program to produce the most expensive weapon in the US arsenal has been plagued by cost increases and delays A pilot climbs into the cockpit of US Air Force's F-35 fighter jet at the Yelahanka Air Force Station in Bengaluru, India, on February 14, 2023. © Manjunath KIRAN / AFP
The Pentagon's flagship F-35 fighter jet program may require an additional $38 billion to cover maintenance costs stemming from technical issues with the cooling system that result in engines overheating, US government auditors have said.
In a new report released on Tuesday, the US Government Accountability Office (GAO) pointed out that the F-35 program "continues to experience schedule delays, cost growth, and late deliveries."
The Pentagon is also struggling to complete a flight simulator for the jet, a necessary step to demonstrate that the aircraft is ready for full-rate production, even though over 125 units per year are already being manufactured, the report says.
Meanwhile, since 2019 procurement costs have soared by $13.4 billion, partly because the Pentagon stretched out purchases of the aircraft over a longer period of time, the report reads, although it states that the "program's cost reporting mechanisms do not fully explain the reasons for cost growth."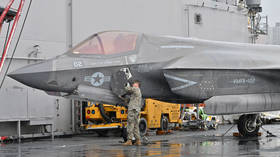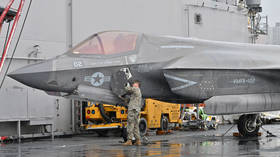 Read more
Pentagon loses a million F-35 parts
The GAO noted that one of the major challenges the Pentagon is facing is modernization of the F-35's engine and heat management system.
"The cooling system is overtasked, requiring the engine to operate beyond its design parameters. The extra heat is increasing the wear on the engine, reducing its life, and adding $38 billion in maintenance costs," the report says.
The program to procure the most expensive weapon in the US arsenal – each plane costs some $80 million – has been beset by numerous issues. According to the GAO, it is now a decade behind schedule and exceeds original cost estimates by $183 billion, while the Pentagon is projected to spend a whopping $1.7 trillion to buy, operate, and sustain the aircraft over the program's entire lifespan.
Despite the colossal expenditure, in March US Air Force Lieutenant General Michael Schmidt, the program's manager, said that while the Pentagon has more than 540 F-35s, only about half of them are capable of going on a limited variety of missions. Moreover, he estimated that less than 30% of the jets could be described as fully combat-ready. (RT)
Azərbaycan24 sosial şəbəkələrdə