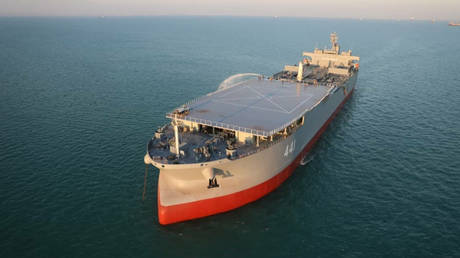 Defense Secretary Lloyd Austin said two Iranian vessels transiting the Atlantic toward Latin America are a "great concern," despite reports that the Pentagon has no plans to intercept the ships or even monitor them more closely.
Asked about the two Iranian ships, which US officials allege are headed for Venezuela to fulfill a weapons sale inked last year, Austin told lawmakers that he shares their concerns, suggesting they pose a proliferation threat in the Western Hemisphere.
"I am absolutely concerned about the proliferation of weapons, any type of weapons, in our neighborhood," he said during a Senate Armed Services Committee hearing. "The precedent of allowing Iran to provide weapons to the region causes me great concern."
Also on rt.com Iran military vessels enter Atlantic Ocean for first time (VIDEO)
The ships' voyage marks the first time the Iranian Navy has entered the Atlantic successfully, reaching the ocean after a 30-day journey.
Austin declined to say what weapons they might be carrying, telling Senator Richard Blumenthal (D-Connecticut) he would have to field that question in "another forum," off the record.
A Wednesday report in Politico said one of the vessels is likely loaded with fast-attack boats destined for Venezuela, citing anonymous intelligence officials. The outlet also suggested they could carry long-range missiles based on previous claims by the Donald Trump administration about a planned sale last summer, though the officials cited no evidence at the time.
While the Pentagon head voiced grave concerns about the Iranian ships, another unnamed defense official indicated a lack of urgency among the military, telling Politico on Thursday that there are currently no plans to "conduct an intercept in international waters," nor to even "monitor the ships more closely."
Nonetheless, senior Pentagon figures said the delivery of weapons to Venezuela would be a "provocative act" and a "threat to our partners in the Western Hemisphere," claiming Washington reserves "the right to take appropriate measures" to stop the alleged arms sale. (RT)