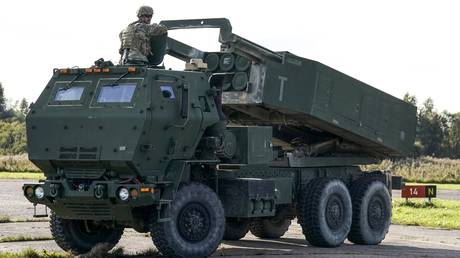 Munitions with 150-kilometer range are part of the newest weapons gift package FILE PHOTO: High-Mobility Artillery Rocket System (HIMARS) is in operation during military exercises at Spilve Airport in Riga, Latvia, September 26, 2022 © AP / Roman Koksarov
It is up to the government in Kiev to decide how to use the new rockets for the US-supplied HIMARS launchers, the Pentagon said on Friday, confirming that the latest batch of munitions the American taxpayers are funding will include Ground Launched Small Diameter Bombs (GLSDB).
The Boeing-manufactured munitions consist of a rocket motor mated with an airplane bomb, with an estimated range of up to 150 kilometers. While Friday's announcement listed "additional ammunition" for the HIMARS and "precision-guided rockets," Brigadier-General Patrick Ryder told reporters that this indeed included the GLSDB, confirming the information leaked to Reuters earlier this week.
Ryder also confirmed that the US won't stand in the way of Ukrainians using the missiles to strike deep inside Russia.
"When it comes to Ukrainian plans on operations, clearly that is their decision. They are in the lead for those," he said on Friday. "So, I'm not going to talk about or speculate about potential future operations, but again, all along, we've been working with them to provide them with capabilities that will enable them to be effective on the battlefield."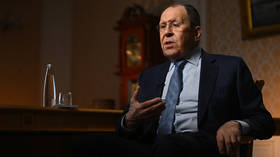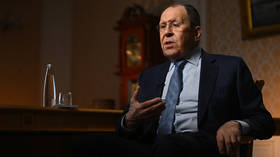 The GLDSB are produced by Boeing in cooperation with Swedish Saab AB, and combine the GBU-39 small-diameter bomb with the M26 rocket motor. It was unclear how many of the munitions the Pentagon intended to send, or whether they would come from the US military stockpile or need to be freshly produced.
Reuters claimed to have seen a Boeing document saying the first deliveries could be "as early as spring 2023." Meanwhile, Bloomberg cited unnamed officials who said the timeline could be as long as nine months, depending on when the US Air Force issues the contract. Bloomberg also reported the GLSDB order would account for $200 million of the $1.75 billion in the Ukraine Security Assistance Initiative funding, referring to contracts for weapons and ammunition not coming out of the Pentagon stockpile.
Whenever the missiles actually arrive, Russia has already hinted at how it will respond. On Wednesday, President Vladimir Putin tasked the military with "eliminating any possibility" of Ukrainian artillery strikes on Russian territory. Foreign Minister Sergey Lavrov said in an interview on Thursday that Moscow will "push back" the Ukrainian troops to a range at which they will not be a threat.
"The longer range the weapons supplied to the Kiev regime have, the further the troops will need to be moved," Lavrov said.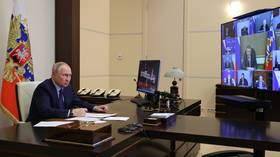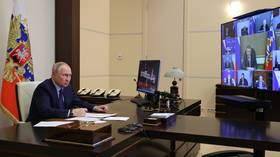 Ukraine has used the US-supplied HIMARS launchers against both military targets and civilians in Donbass, Kherson and Zaporozhye. Kiev has repeatedly asked for the MGM-140 Army Tactical Missile System (ATACMS) rockets, which have a range of some 300 kilometers.
Moscow has repeatedly warned Washington that providing heavy weapons to Ukraine risks crossing Russia's "red lines" and involving the US and NATO in the conflict directly. The US and its allies insist they are not parties to the hostilities, but continue to arm Kiev. By the Pentagon's own admission, the US has committed $32 billion in military aid to Ukraine. (RT)
Azərbaycan24 sosial şəbəkələrdə