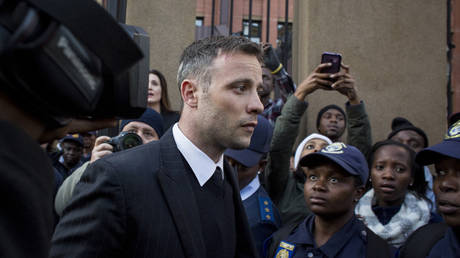 It was found that Oscar Pistorius has not yet completed the minimum period of detention required by law Oscar Pistorius leaves the North Gauteng High Court at the end of the third day of his resentencing hearing at Pretoria High Court on June 15, 2016 in Pretoria, South Africa © Getty Images / Charlie Shoemaker/Getty Images
Oscar Pistorius, the double amputee and former Paralympic athlete given the moniker 'Blade Runner' due to his carbon-fiber prostheses, has been denied parole by a court in his native South Africa ten years after he shot and killed his girlfriend Reeva Steenkamp at his home in Pretoria
Pistorius shot Steenkamp four times through a bathroom door in February 2013 but claimed in his defense that he had mistaken the model and law graduate for a home intruder.
"We were advised at this point in time that [parole] has been denied and it will be considered again in one year's time," a legal representative of Steenkamp's family told AFP on Friday. It was also confirmed that Pistorius has not yet served the minimum term which would make him eligible for parole.
The confusion over whether he was eligible for parole is apparently due to various appeals which had broken up his incarceration, as well as a period of house arrest.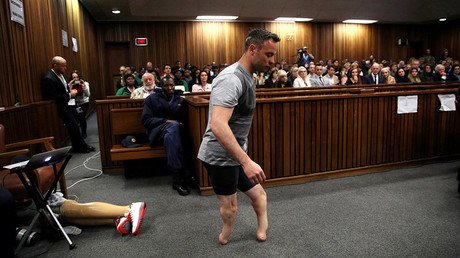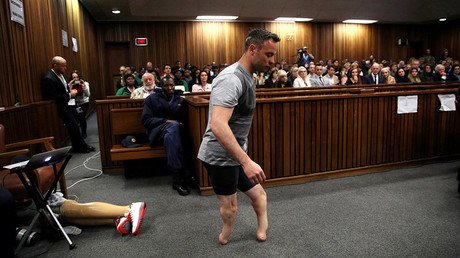 Read more
Paralympic gold medalist Oscar Pistorius' prison sentence extended to 13 years
Steenkamp's parents, June and Barry, have maintained that they do not believe Pistorius' version of events and don't believe he is remorseful or rehabilitated. "While we welcome today's decision, today is not a cause for celebration," they said through their lawyer, Tania Koen.
The former athlete has consistently denied that he intended to cause harm to Steenkamp.
Pistorius was initially found guilty of a lesser charge of culpable homicide in 2014 but this was later upgraded to murder following protests by women's rights groups, and an appeal by prosecutors. He was handed a 13-year sentence in 2017.
The South African made Olympic history at the London Olympics in 2012 when he became the first amputee ever to compete against able-bodied opponents in a track event. He reached the semi-finals of the 400m event in the English capital.
The initial televised trial drew widespread public attention in South Africa and abroad. Pistorius will likely have another parole hearing in August 2024 when he reaches the halfway point of his sentence, per South African law. (RT)
Azərbaycan24 sosial şəbəkələrdə