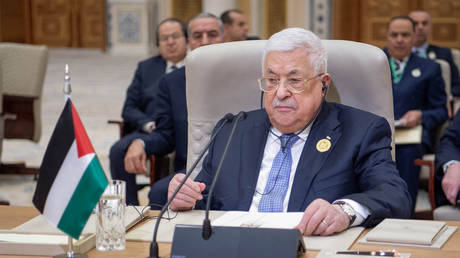 Beijing has again positioned itself as a mediator in a regional dispute Palestinian President Mahmoud Abbas attends the 43rd Gulf Cooperation Council (GCC) Summit in Riyadh, Saudi Arabia on December 09, 2022 © Getty Images / Royal Court of Saudi Arabia / Handout/Anadolu Agency via Getty Images
Palestinian President Mahmoud Abbas will visit China next week at the invitation of President Xi Jinping, the Foreign Ministry in Beijing announced on Friday. China has signaled its intent to back Israeli-Palestinian peace negotiations.
"At the invitation of President Xi Jinping, President of the state of Palestine Mahmoud Abbas will pay a state visit to China from June 13 to 16," spokesperson Hua Chunying said in an official release on the Foreign Ministry's website on Friday.
The statement follows a declaration from Foreign Minister Qin Gang in April, in which he expressed China's willingness to support peace negotiations after separate conversations with Israeli and Palestinian diplomats.
Qin backed "steps to resume peace talks" in a phone call with Israel's foreign minister, Eli Cohen, the Xinhua news agency said in April, adding that "China is ready to provide convenience for this." The Chinese diplomat also made similar calls for peace talks in a discussion with the Palestinian foreign minister, Riyad al-Maliki, Xinhua reported.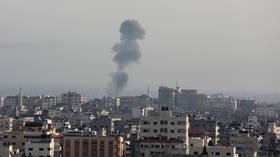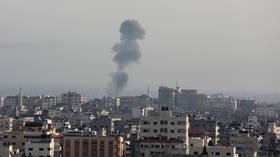 Read more
Peace efforts falter amid continued violence between Israel and Palestine – media
In both exchanges, Qin stated that China's platform for peace talks is based on the so-called "two-state solution" to the Israeli-Palestinian conflict, Xinhua said.
Beijing's efforts to establish the resumption of negotiations between Israel and Palestine comes as China focuses elements of its foreign policy towards acting as a mediator in various regional disputes.
In March, Beijing brokered renewed ties between regional rivals Iran and Saudi Arabia, inserting itself into a political theater in which the United States has for decades acted as the chief diplomatic influencer.
The move casts Washington to the sidelines in regional disputes such as the Yemeni civil war, largely considered a Tehran-Riyadh proxy conflict.
Israel's Foreign Ministry also said that it expects China to play a productive role in its concerns about Tehran's nuclear ambitions.
In February, Beijing proposed a peace plan for Russia's conflict with Ukraine following discussions between Xi and Russian President Vladimir Putin. Since Xi came to power in 2012, China has made concerted efforts to establish itself as a conflict mediator in countries such as Bangladesh, Syria, Afghanistan, and others. (RT)
Azərbaycan24 sosial şəbəkələrdə