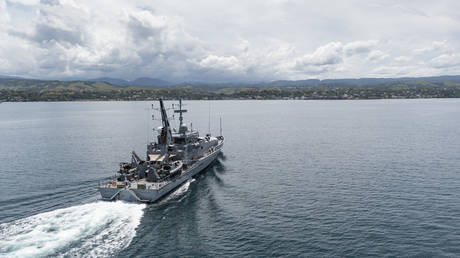 Samoa has cautioned that Beijing's contract with Solomon Islands may "morph into something else" In this handout provided by the Australian Department of Defence, Armadale Class Patrol Boat, HMAS Armidale, sails into the Port of Honiara on December 1, 2021 © Getty Images / CPL Brodie Cross/Australian Department of Defence via Getty Images
The awarding of a contract to a Chinese state-owned company to redevelop a commercial port in the Solomon Islands' capital, Honiara, may lead to deeper security tensions, the Prime Minister of Samoa Fiame Naomi Mata'afa has said.
The agreement struck between Beijing and Honiara will see the city's international port and two domestic wharves upgraded as part of a $170-million project to be completed by the China Civil Engineering Construction Company (CCECC). The Chinese state-run infrastructure development company has managed various foreign projects since its formation 43 years ago, including in Israel, Nigeria and Colombia. It was the only company to submit a tender bid for the Solomon Islands port redevelopment project.
However, the announcement of the deal has come at a time of concern by the United States and its allies about aggressive Chinese military expansionism in the Pacific region – concerns echoed by Samoa, which maintains friendly diplomatic relations with the US.
"This is a commercial port, although I think the fears are that it might morph into something else," Fiame said on Wednesday following a meeting with Australian leader Anthony Albanese. "I suppose we have to address that if and when it might happen."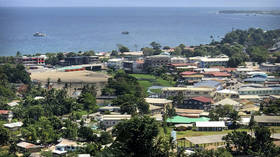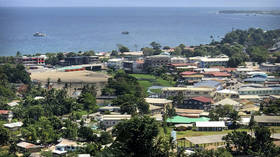 Read more
US makes diplomatic move targeting China
She added: "Let's be quite clear, other countries also have military or naval stations within the region as well."
The announcement of the China-Solomon Islands redevelopment deal comes around a year after the two nations signed a security pact, which Australian officials warned could prompt a Chinese military build-up in the archipelago around 1,700 kilometers from Australia's northern coast. The country's Labor Party last year called the security pact "Australia's worst foreign policy blunder in the Pacific" in many years.
In its own response, Canberra said that it "closely monitors developments which might impact our national interest" but stressed that it supports legitimate and transparent developments which "deliver long-term economic benefits."
Honiara, meanwhile, has maintained its stance of being "a friend to all, enemy to none" after hosting meetings with senior representatives from both Washington and Beijing this week, with the US delegation led by its top Indo-Pacific coordinator, Kurt Campbell. Washington reopened its embassy in Honiara last month, in part to counter China's "growing influence" in the area, according to the US State Department. (RT)
Azərbaycan24 sosial şəbəkələrdə