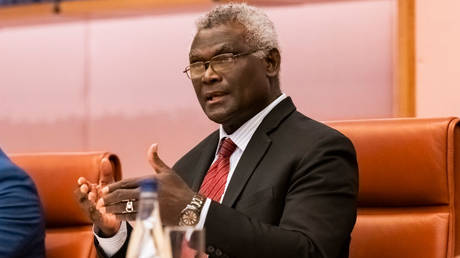 Solomon Islands leader Manasseh Sogavare has explained that he had more important things to do than attend a White House meeting Solomon Islands Prime Minister Manasseh Sogavare speaks during a meeting last October in Canberra, Australia. © Getty Images / Martin Ollman
Solomon Islands Prime Minister Manasseh Sogavare has defended his decision to skip this week's White House summit with the Pacific region's leaders, saying he didn't want to spend time hearing a "lecture" from President Joe Biden's administration when he had more important concerns to deal with back home.
"I am not to go and sit down at the meeting and listen to them lecture me," Sogavare told reporters after returning to Honiara from the US on Wednesday. He added that he saw no benefit from attending a similar meeting last year, saying the talks are arranged to give each Pacific Islands leader three minutes to talk, "and then you go and listen to them lecture you about how good they are."
Sogavare traveled to the US to address the UN General Assembly last week in New York. Earlier this year, he shrugged off complaints from the US and Australia over his country's deepening ties with China, saying the Solomons sought "honest cooperation" with all nations. He met with Chinese President Xi Jinping in July and signed nine new agreements and memorandums, including a security pact that allows Beijing to deploy police to help maintain law and order on the islands.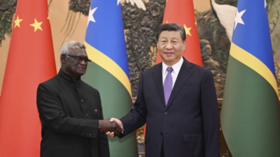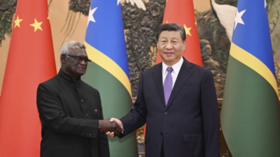 Speaking at the UN, Sogavare praised China's development cooperation with the Solomon Islands, saying Beijing was "less restrictive, more responsive and aligned to our national needs." He added that China is now the leading infrastructure partner for the Solomon Islands.
A White House official issued a statement last week saying the Biden administration was disappointed that Sogavare had decided not to attend the 18-nation Pacific Islands summit. US Secretary of State Antony Blinken has urged Pacific Islands leaders to be on guard against China's "increasingly problematic behavior." Washington reopened its embassy in the Solomons in January, ending a 30-year absence, and opened an embassy in Tonga in May.
Sogavare told reporters on Wednesday that he chose to prioritize domestic issues over attending the US forum. With just ten weeks remaining before the current parliamentary session in Honiara ends, he said he needs to work with lawmakers on the country's legislative agenda.
During last year's Pacific Islands summit at the White House, the Biden administration announced more than $800 million in economic aid to the region to counter growing Chinese influence. Sogavare said nothing has come of that pledge so far, and he claimed that other foreign leaders had shown more respect to heads of state in the Pacific Islands. "They treat us like leaders, not to put us in a classroom-like setting and lecture us," he added. (RT)
Azərbaycan24 sosial şəbəkələrdə