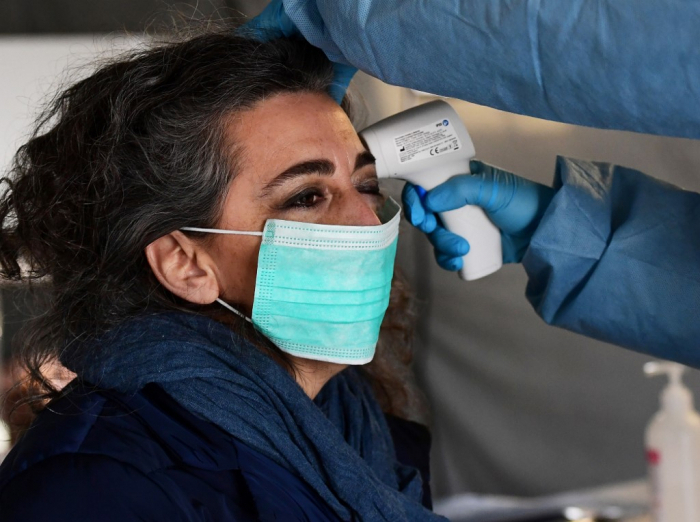 The global coronavirus pandemic has infected over 42 million people and claimed over a million lives.
The total number of confirmed cases of coronavirus has surged past the 42 million, Worldometer reports.
Over 1.1 million people have died from the virus, while almost 31 million people have recovered.
The US is the hardest-hit country, followed by India and Brazil.
Coronavirus cases in France passes one million
France has registered more than one million cases of coronavirus since the global pandemic began, with more than 40,000 new infections reported in the last 24 hours.
A total of 42,032 cases were reported, 410 more than a day earlier, a new record since widespread testing began, the public health agency said.
The death toll also increased, with 298 new fatalities registered in 24 hours, bringing the total to more than 34,500 since the pandemic started.
Faced with the alarming rise in cases, the government has expanded a nighttime curfew to cover more than two-thirds of the population, or 46 million people.
US faces half a million deaths by end-February
More than a half-million people in the US could die from the virus by the end of February, but around 130,000 of those lives could be saved if everybody were to wear masks, according to estimates from a modelling study.
The estimates by researchers at the University of Washington's Institute for Health Metrics and Evaluation showed that with few effective virus treatment options and no vaccines yet available, the US faces "a continued Covid-19 public health challenge through the winter."
The IHME study forecast that large, populous states such as California, Texas and Florida will likely face particularly high levels of illness, deaths and demands on hospital resources.
Turkey confirms 2,165 more patients
Turkey has confirmed 2,165 more patients over the past 24 hours, authorities announced, the third day in a row new patient numbers have topped 2,000.
The country's overall coronavirus patient count now stands at 357,693, according to Health Ministry data.
Meanwhile, the virus-linked death toll in Turkey reached 9,658, with 74 new fatalities reported.
Turkey's Health Minister Fahrettin Koca said that Turkey expects to have some 5 million doses of a vaccine – possibly one from China or from the drug company Pfizer – with few side effects ready by December.
Iran plans new restrictions in Tehran
Iran is planning new restrictions, including state employees working every other day in the capital Tehran, after a record surge in virus cases.
"One decision by the Tehran Coronavirus Taskforce is for staff at state bodies to be cut by 50 percent next week, and coming to work every other day," taskforce head Al ireza Zali told state news agency IRNA.
He said authorities were also looking into having various job categories start work at different times to ease crowding and traffic.
The restrictions were expected to last for about a month in Tehran, where the coronavirus spread has been particularly alarming, Zali added.
AstraZeneca, Oxford allowed to resume vaccine trial in US
Federal health regulators have decided to allow the resumption of the US trial of a leading virus vaccine candidate from AstraZeneca Plc and the University of Oxford, the Wall Street Journal has reported.
A day before, Reuters reported that the US Food and Drug Administration had completed a review and that the trial was set to resume as early as this week, citing four sources familiar with the situation.
AstraZeneca, Oxford and US regulators were not immediately available for comment.
AstraZeneca's large, late-stage US trial has been on hold since September 6, after a participant in the company's UK trial fell ill with what was suspected to be a rare spinal inflammatory disorder called transverse myelitis.
Spain's cases estimated to top three million
The "real number" of virus cases in Spain is more than three million, Prime Minister Pedro Sanchez has said in a televised address.
Earlier this week, Spain officially surpassed one million confirmed coronavirus infections but Sanchez said the actual figure was much higher because the number of cases detected at the start of the pandemic was very low.
Millions more head into UK virus lockdowns
Millions more people have headed into virus lockdowns in Britain as the government boosted a jobs support package but acknowledged failures in a hugely expensive testing programme.
Across Britain, more than 44,000 deaths have been linked to the disease and cases have been surging after a summer lull, especially in northern England.
Official figures released estimated a daily increase of 27,900-35,200 cases for the week ending October 16, giving a slightly reduced doubling time of around 21 days.
But the government of Prime Minister Boris Johnson has resisted calls for a second national lockdown, arguing that its tiered system is better suited to target regions facing the biggest threat.
Dutch infections jump by nearly 10,000
The number of coronavirus infections in the Netherlands has jumped by nearly 10,000 in 24 hours, hitting a new record, data released by the National Institute for Public Health (RIVM) showed.
The government imposed partial lockdown measures to contain the spread on Oct 14, including the closure of all bars and restaurants in the country.
Belgium tightens measures
Belgium has tightened restrictions on social contacts by banning fans from sports matches, limiting the number of people in cultural spaces and closing theme parks.
Belgium had already closed cafes, bars and restaurants and imposed a night curfew, and has Europe's second-highest infection rate per capita after the Czech Republic. New infections hit a peak of 10,500 on Thursday.
But the government has resisted calls from medical experts to order a new lockdown to avoid causing more economic pain.
The restrictions running until November 19 also include stricter social distancing. They are intended to avoid crowding on public transport and impose a limit of 200 people in theatres, concert halls and cinemas.
Poland curbs public gatherings
Poland will close restaurants and bars for two weeks and limit public gatherings to five people after virus infections hit a daily record of more than 13,600.
Officials said the aim of the new restrictions was to limit the growth of infections, and that without them daily cases could jump to as many as 25,000.
The Health Ministry reported 153 deaths, down from a record high of 168 a day earlier, taking the total toll to 4,172.