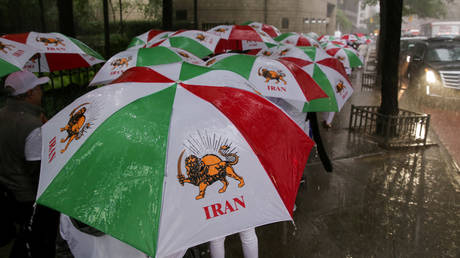 Less than one quarter of Americans want the US to take military action against Iran, a new poll has found, amid rising tensions between Tehran and Washington.
The Hill-HarrisX survey revealed that 19 percent of voters want the US to launch a "limited military strike" on Iran — an action which the Trump administration said it considered but ultimately backed away from last week.
A more hawkish five percent of voters said they wanted the US to outright declare war on Iran, while another 19 percent of voters said they were unsure about what the US should do next.
Also on rt.com Trump threatens Iran with 'OBLITERATION' by 'overwhelming force' if it attacks 'anything American'
The majority of respondents (58 percent), however, said they would prefer a non-military response to Iran's shooting down of an American drone last week, which Tehran said had entered its airspace.
Forty-nine percent said they would like the US to "seek a negotiated solution" to the recent hostilities, while nine percent were less enthusiastic about engagement and feel the US should "do nothing." (RT)
Azərbaycan24 sosial şəbəkələrdə