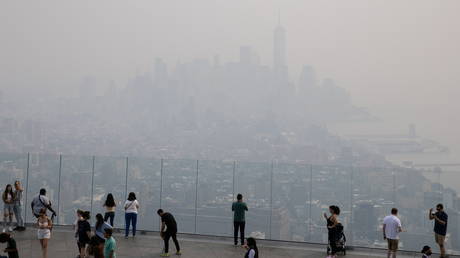 Smoke from the deadly West Coast wildfires has grown so massive it can be seen – and breathed – as far away as New York City, where the air quality was measured as the worst in over 14 years.
Weather experts said the fine particulate matter was seven times the acceptable health limit set by the World Health Organization.
Air quality in New York was measured as the worst worldwide on Tuesday – on par with Kolkata, India – owing to the raging wildfires on the West Coast, with state officials advising those with respiratory issues like asthma to avoid strenuous activity outdoors.
Despite the fires burning some 2,500 miles away, New Yorkers couldn't help but see the effects, including an eerie orange tinge to the moon and a pervasive haze that left some Manhattan residents unable to even see across the Hudson River to New Jersey.
With more than 80 major wildfires burning in 13 states, most in the West, the city's famous skyline has been enveloped in haze for the past two days, with similar effects visible from as far away as Philadelphia, Washington, DC, and Toronto.
The air quality index hit 157 in the city – far above the safe limit of 100 and the worst recorded anywhere on Wednesday – reportedly extending into the 160s that morning. (RT)