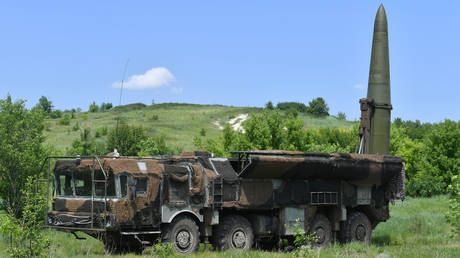 The civil group ICAN said that deployment of Moscow's atomic weapons in Belarus would be an "extremely dangerous escalation" FILE PHOTO: A Russian Iskander-M missile launcher. © Sputnik / RIA News
Russia's decision to place tactical nuclear weapons in neighboring Belarus significantly increases risks of a nuclear stand-off amid the Ukraine crisis, the International Campaign to Abolish Nuclear Weapons (ICAN) said on Saturday.
In a statement on Twitter, the activist organization, which was awarded the Nobel Peace Prize in 2017 for its efforts to achieve a universal ban on nuclear arms, said that it "condemns this extremely dangerous escalation which makes the use of nuclear weapons more likely."
It added that, given the Ukraine conflict, "the likelihood of miscalculation or misinterpretation is extremely high. Sharing nuclear weapons makes the situation much worse and risks catastrophic humanitarian consequences."
ICAN also noted that hosting another country's atomic weapons is prohibited under the 2017 UN Treaty on the Prohibition of Nuclear Weapons (TPNW). However, this framework has never been signed by Belarus, Russia, China, or any Western nuclear power. In 2017, the US, the UK and France claimed that this initiative "clearly disregards the realities of the international security environment," while Russia said it "runs counter to its national interests."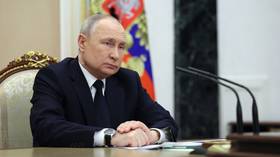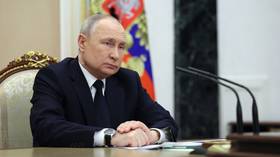 The organization's statement comes after Russian President Vladimir Putin said on Saturday that his nation's nuclear weapons could arrive in Belarus as early as this summer, explaining that the move was prompted by the UK's recent decision to provide Ukraine with depleted uranium shells.
He also said that the deployment comes after repeated requests from Belarusian President Alexander Lukashenko, while pointing out that the US has long stationed such armaments in Europe, namely in Germany, Türkiye, the Netherlands, Belgium, and Italy.
Commenting on the move, Germany described it as "further attempt at nuclear intimidation," while Kiev called for new sanctions against Russia. However, the US struck a more cautious tone, with National Security Council spokeswoman Adrienne Watson saying that Washington had not seen any signs Russia was planning to use a nuclear weapon, adding that the US had no reason so far to adjust its strategic posture. (RT)
Azərbaycan24 sosial şəbəkələrdə