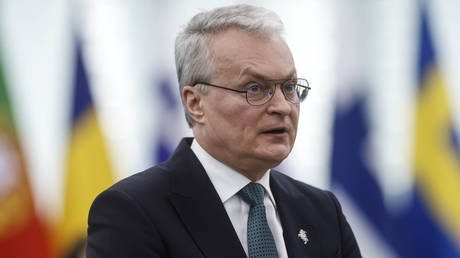 Lithuania's Gitanas Nauseda said Kiev should not be admitted to the military alliance until its conflict with Moscow is over President of Lithuania Gitanas Nauseda delivers his speech during a debate in the European parliament on Tuesday, March 14, 2023 in Strasbourg, eastern France. © AP Photo/Jean-Francois Badias
Ukraine's aspirations of NATO membership should not materialize while the country remains locked in a military conflict with Russia, Lithuanian President Gitanas Nauseda has said. He noted, however, that a "definite road map" should be developed by mid-summer for Kiev's eventual accession.
In an interview with Italy's La Repubblica published on Saturday, Nauseda said letting Ukraine join the US-led military bloc right now "would be too difficult." The leadership in Kiev is also well aware of this fact, he added.
Instead, the alliance needs to "define stages and formulae of how to act after" the conflict is over, Nauseda continued. He expressed hope that this could be done during the NATO summit in Vilnius on July 11 and 12, 2023.
He acknowledged that the issue of Ukraine's possible accession "will be the most complicated element to deal with" during the event. According to the Lithuanian head of state, some member states are still reluctant to send "strong signals" to Ukraine.
Last week, German Defense Minister Boris Pistorius asserted that "this is now not the time to decide" on Ukraine's possible future within NATO. Echoing the Lithuanian president, he said this issue could be "carefully" considered only after Kiev succeeds in "repelling this attack."
The decision should be made "with a cold head and hot heart, and not the other way round," he stated.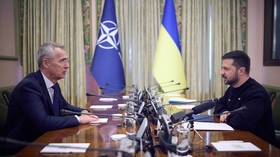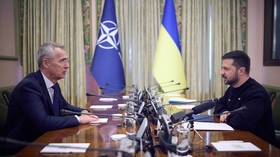 Around the same time, Hungarian Prime Minister Viktor Orban tweeted "What?!" in response to an article reporting NATO Secretary General Jens Stoltenberg's remarks in Kiev last Thursday.
During a joint press conference with Ukrainian President Vladimir Zelensky, the military bloc's chief said: "Ukraine's rightful place is in the Euro-Atlantic family. Ukraine's rightful place is in NATO." Stoltenberg added that "over time, our support will help to make this possible."
However, he stopped short of offering any timeframe for Ukraine's possible accession to the alliance.
Commenting on Stoltenberg's remarks, Kremlin spokesperson Dmitry Peskov stressed that preventing Ukraine from joining NATO remains one of the key goals of Russia's military campaign against its neighbor.
Explaining the need for military action against Ukraine last February, President Vladimir Putin cited the country's possible accession to the alliance as one of the reasons for the move. (RT)
Azərbaycan24 sosial şəbəkələrdə