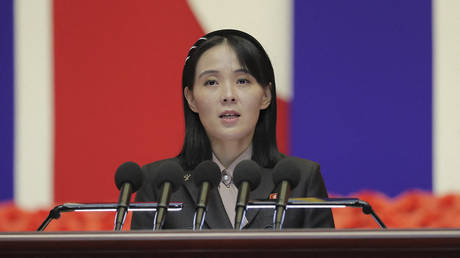 The Ukrainian leader is putting his country on "the wrong path, the last path," Kim Jong-un's sister stated Kim Yo-jong, the sister of North Korea's leader Kim Jong-un © AFP / KCNA
The President of Ukraine Vladimir Zelensky is gambling with his country's future by pursuing nuclear weapons, Kim Yo-jong, influential sister of North Korean leader Kim Jong-un, said on Saturday, according to the Korean Central News Agency (KCNA).
She was commenting on an online petition to "deploy US nuclear weapons on Ukrainian territory or turn Ukraine into a state with its own nuclear weapons," which was launched on Zelensky's website on Thursday. The initiative requires 25,000 signatures to be considered by the head of state. So far, it has been backed by some 650 people.
Kim Yo-jong, who is a senior figure in North Korea's ruling Workers' Party, described the petition as "a plausible veil of the public's expression of will, but it's not hard to guess that it is a product of the Zelensky authorities' sinister political plot."
She recalled that the Ukrainian leader had spoken openly about his nuclear ambition before the outbreak of the conflict with Russia last February, including at the Munich Security Conference just days before Moscow launched its military operation.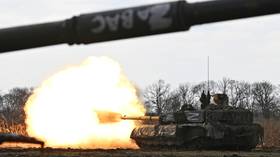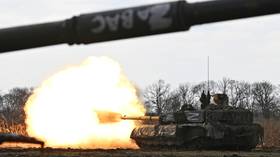 By using the nuclear card, Zelensky is trying "to prolong his remaining days at any cost by gambling with the destiny of his country and people," the Pyongyang official pointed out, in a statement cited by the KCNA.
"If the Zelenskiy authorities calculated that they can avoid the powerful fire of Russia only when they go under the US nuclear umbrella, which had already been perforated, they are going to the wrong path, the last path," she said.
Kim Yo-jong also accused the Kiev government of "incurable megalomania" and of "incurring a nuclear disaster threatening their existence" by thinking that they can defeat Russia.
North Korea is itself in possession of nuclear weapons, being placed under harsh international sanctions due to its military nuclear program.
Kremlin press-secretary Dmitry Peskov said on Friday that the "activation" of the nuclear issue in Ukraine was "a dangerous trend and a hypothetical threat which Russia can't ignore." (RT)
Azərbaycan24 sosial şəbəkələrdə