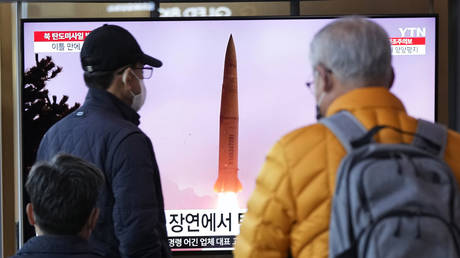 Pyongyang blasted Washington's UN envoy as "a pawn of the Evil Empire" after she urged the DPRK to give up its nuclear arsenal A TV screen shows a file image of a North Korean missile launch during a news program at the Seoul Railway Station in Seoul, South Korea, March 16, 2023. © AP / Ahn Young-joon
North Korea has said that any attempt to force it to abandon its nuclear weapons would trigger a harsh response, invoking a recently updated policy governing the use of the atom bomb in the event of a major threat.
In comments carried by the state-run Korean Central News Agency (KCNA) on Wednesday, senior Foreign Ministry official Jo Chol-su took aim at the US' United Nations Ambassador Linda Thomas-Greenfield, who urged the international body to adopt a measure seeking to compel Pyongyang to get rid of its nuclear arms earlier this week.
"Forcing the DPRK to give up nuclear weapons is a declaration of war," he said, adding that any attempt to do so "will be dealt with resolutely in accordance with the DPRK's Nuclear Forces Policy Act."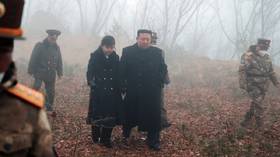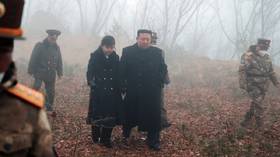 Enacted last September, the law updated North Korea's policies surrounding its nuclear arms, outlining five different scenarios under which Pyongyang would employ the powerful weapon, including an attack by a foreign power, or when a "catastrophic crisis threatens the existence of the state or the safety of the people."
During a UN meeting on Monday, Thomas-Greenfield said the US and its allies must pursue the "complete, verifiable and irreversible" denuclearization of North Korea, echoing demands by several previous administrations. The DPRK maintains its weapons are for defensive purposes only and insists on its right to possess them, however, repeatedly rejecting the American demands.
The envoy also accused Russia and China of obstructing the disarmament efforts, as the two countries frequently scuttle US-backed resolutions at the UN Security Council, where they both hold veto power. Beijing and Moscow have warned that Washington's current approach is unlikely to succeed, and would only escalate tensions between the two Koreas.
Jo went on to warn that if Thomas-Greenfield "continues to speak maliciously without self-restraint," she would be the "first to stand on the judgment seat of justice as a pawn of the Evil Empire" – apparently repurposing former President Ronald Reagan's famous description of the Soviet Union at the height of the Cold War.
The Korean Peninsula has seen a major uptick in military activity in recent months, with the North carrying out a record number of weapons tests last year amid regular US-led war games with Seoul. While former President Donald Trump made rare diplomatic inroads with Pyongyang – including a 'freeze-for-freeze' deal which halted the DPRK's missile tests and US-South Korean drills – the current administration has adopted a much more bellicose stance, issuing a steady stream of threats and ultimatums since it took power in 2021. (RT)
Azərbaycan24 sosial şəbəkələrdə