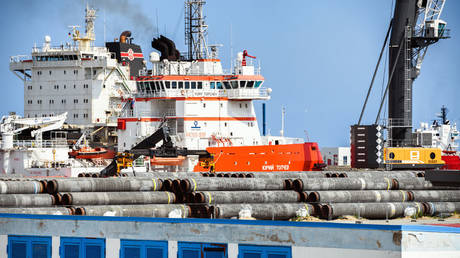 A wave of new impending sanctions aimed at Moscow will reportedly not target the Russian-backed Nord Stream 2 pipeline, with the Kremlin expressing hope that relations with the US could recover in the wake of negotiations.
Politico reported on Thursday that Washington is likely to impose new sanctions on Russia, but the Nord Stream 2 infrastructure project, developed by state energy firm Gazprom, will escape being targeted this time around.
The new underwater link, which was completed in September, can transport 55 billion cubic meters of gas per year from the Russian coast through the Baltic Sea to Germany. Despite US President Joe Biden previously stating in 2016 that Nord Stream 2 "is a bad deal for Europe," his administration has reportedly made no new plans to hit the pipeline with sanctions, according to the US-based publication's sources.
Also on rt.com Biden orders new sanctions against Russian-German pipeline as Merkel meets Putin in Moscow
Instead, it has been reported that this week's rollout of new punitive measures against Moscow will be in response to allegations that Russian hackers were linked to the colossal SolarWinds cyber attack that saw US government department computer networks compromised. A number of sensitive servers were said to have been breached, including those with files on the country's counter-intelligence investigations, response to Covid-19 and policy on sanctioning Russians. Microsoft users' data was also made public.
As part of the new sanctions, a number of Russian diplomats will be expelled from the US, several reports have suggested.
The gas network may have been excluded this time, but Nord Stream 2 has been targeted by the US on a number of occasions in the past. In August, Biden argued that "certain Russian energy pipeline projects" would expand Moscow's influence over the continent's energy resources and weaken "Ukraine and Eastern flank NATO and EU countries," thereby threatening "the national security, foreign policy, and economy of the United States."
His executive order aimed to "block the property and interests in property of foreign persons" who were "engaging in certain activities or providing certain services to facilitate construction of the Nord Stream 2 pipeline project, among others." (RT)