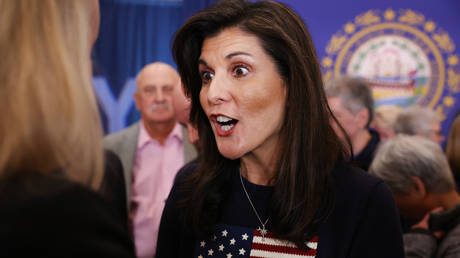 The Republican presidential candidate explained that the only way to prevent war was to "send a message" by fighting one © Getty Images / Spencer Platt
Allowing Ukraine to lose to Russia on the battlefield will unleash world war, according to Republican presidential candidate Nikki Haley. The former South Carolina governor told a town hall audience in Iowa on Sunday that arming Kiev was all about "preventing war" by "sending a message" to the US' rivals.
"When Ukraine wins, that sends a message to China with Taiwan, it sends a message to Iran that wants to build a bomb, it sends a message to North Korea testing ballistic missiles, it sends a message to Russia that it's over."
"It is in the best interests of America, it is in the best interests of our national security for Ukraine to win. We have to see this through, we have to finish it," she said.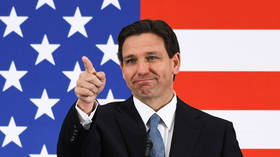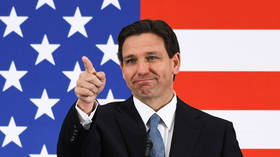 Read more
DeSantis vows to 'destroy leftism' in US
Regarding how the war might finish, Haley was less forthcoming. "It would end in a day if Russia would pull out," she suggested. "If Ukraine pulls out, then we're all looking at world war." To prevent that, she explained, Kiev needed weapons – lots of them.
"A win for Ukraine is a win for all of us, because tyrants tell us exactly what they're gonna do," Haley continued, claiming "Russia said Poland and the Baltics are next," should Ukraine fall. "If that happens, we're looking at a world war," she repeated.
While much has been written about the possibility of a Russian invasion of Poland or the Baltic states, even most US experts admit these are unlikely. Invading any of those countries would trigger Article 5, NATO's mutual-defense clause, turning a conflict many have described as a proxy war between Moscow and Brussels into a direct war between nuclear powers.
Haley has been quick to set herself apart on foreign policy matters from Republican frontrunner Donald Trump, who quipped earlier this year that it was the US, not Russia, that needed regime change, and from challenger Ron DeSantis, who downplayed the conflict in Ukraine as a "territorial dispute."
During the town hall, she again scoffed at the notion of remaining neutral in the conflict, insisting "This is a war about freedom and it's one we have to win."
While Haley served as US ambassador to the United Nations under Trump, she made no secret of her interventionist leanings, even announcing an unexpected round of sanctions against Russia that the White House then had to retract. She has urged the Biden administration to give in to Ukrainian President Vladimir Zelensky's demands for F-16 fighter jets for months and impose even more sanctions, insisting Washington is too soft on Moscow. (RT)
Azərbaycan24 sosial şəbəkələrdə