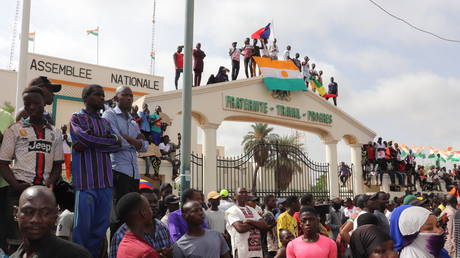 Distrust in its former colonial rulers contributed to the ongoing crisis in Niger, a former diplomat has suggested People demonstrate in Niger's capital Niamey to show their support for the coup plotters, August 03, 2023. © Global Look Press / dpa/Djibo Issifou
The military coup in Niger is an aftershock of the neocolonial relationship between France and various countries on the African continent, according to former French ambassador Gerard Araud.
The crisis in Niger, which began last week when army general Abdouramane Tchiani toppled democratically elected President Mohamed Bazoum, is a "rejection of the French presence in the country," Araud told news website Euractiv in comments published on Thursday.
The 70-year-old diplomat added that the coup could be seen as a rejection of the so-called 'Francafrique': a term used to describe Paris' sphere of influence over former colonies in sub-Saharan Africa. The absence of a concerted African strategy is a "failure" of Europe, Araud added.
Araud, who was previously France's ambassador to the United States, has held various high-profile diplomatic positions on behalf of France and the United Nations, as well as previously serving as the director general for political and security affairs in France's Ministry of Foreign Affairs.
He said France's colonial past had ushered in a "revolt of the youth" in the sub-Saharan region, with many taking that view that national governments are increasingly being seen as Paris' puppets in Africa. He added to Euractiv that population growth and increasing levels of poverty has also fomented distrust by Africans in their established systems of government.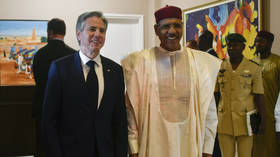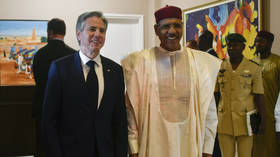 Read more
Deposed Niger leader calls for US intervention
Despite increases in foreign security in Niger, particularly from France and the United States, insurgent attacks from Al-Qaeda and Islamic State-linked groups have continued; a factor also generally considered to be contributing to Niger's political instability.
On July 28, Tchiani, the head of Niger's presidential guard, declared himself head of state of the African nation which has a population in excess of 25 million people. In 2021, there was a coup attempt around 48 hours before Bazoum's inauguration as president of the West African state after he defeated opponent Mahamane Ousmane at the polls. The coup attempt was thwarted by the presidential guard.
French influence in Africa dates back to the 17th century but increased substantially in the 19th century with the invasion of the Ottoman Algiers in 1830. France took control of some areas of Niger in the 1890s. Ethnic groups in the African country rebelled against French rule before it was conquered as a colony in 1922. Niger later declared independence in 1960.
However, France has maintained a stance of activity in the Sahel region of Africa – with Araud telling Euractiv that French forces were regarded as "freedom fighters" for repelling insurgents in North Mali in 2012 and 2013.
However, he added that "every liberating army becomes, after a while, an occupier." (RT)
Azərbaycan24 sosial şəbəkələrdə