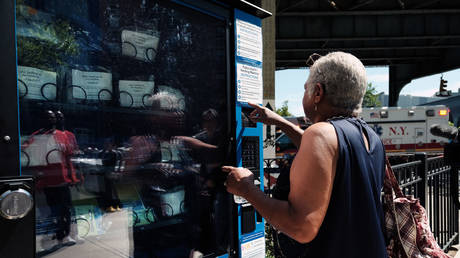 The street-corner boxes also offer the overdose reversal drug Narcan, condoms, and – soon – syringes New York City's first "public health" vending machine on opening day © Getty Images / Spencer Platt
New York City's first "public health" vending machine, stocked with free drug paraphernalia and unveiled on a corner of Brooklyn's drug-infested Brownsville neighborhood on Monday, had already been cleaned out of almost all its contents 24 hours later, the New York Post reported on Tuesday.
Well-stocked with "safer smoking" kits containing free crack pipes, "safer sniffing" kits, fentanyl testing strips, overdose-reversing Narcan nasal sprays, nicotine gum and condoms on Monday morning, the big blue box contained just one overdose-reversal kit and a pair of testing strips the next day.
The city plans to install three more of the street corner smoke shops, each costing $11,000, in neighborhoods suffering the most from the opioid overdose crisis. The contents will remain free to anyone who enters their zip code on the keypad, and nonprofit Services for the Underserved will maintain them.
"We are in the midst of an overdose crisis in our city, which is taking a fellow New Yorker from us every three hours and is a major cause of falling life expectancy in NYC," New York Health Commissioner Ashwin Vasan said in a statement announcing the vending machine rollout.
"We will continue to fight to keep our neighbors and loved ones alive with care, compassion and action," he declared, emphasizing the dispensing of "life-saving tools like [overdose reverser] Naloxone" over the distribution of "safer use" kits. There are reportedly plans to stock syringes in the machines as well.
Perry Perlmutter, CEO of Services for the Underserved, described the initiative as "a game-changer for this part of East Brooklyn," noting that the machines' contents would "prevent overdoses, infections, and other health risks associated with substance use" in addition to "essential items that can improve the quality of life of all New Yorkers, regardless of their income, insurance or housing status."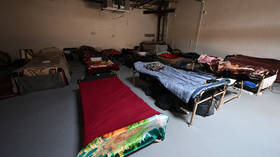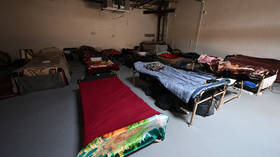 Read more
NYC to house migrants in churches
Overdoses in New York City are at an all-time high, with 2022 on track to break the 2021 record of 2,668 overdose deaths. In the first half of 2022 alone, 1,370 overdose deaths were recorded.
Like New York's controversial "safe" drug injection sites, whose number is set to expand from two to five by 2025, the paraphernalia vending machines appear to be inspired by the drug-infested Canadian city of Vancouver, which has been selling crack pipes – and some actual narcotics – out of vending machines for nearly a decade in the name of "harm reduction."
While New York appears to be the first US city to offer a full range of drug paraphernalia for free out of vending machines, other cities like Los Angeles have also begun handing out "smoking kits" in addition to Narcan and testing strips and the needle exchanges that have existed for decades. (RT)
Azərbaycan24 sosial şəbəkələrdə