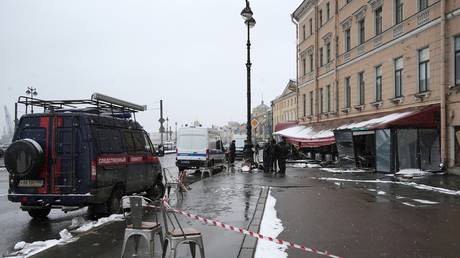 Russian investigators have placed a Ukrainian-linked former journalist on a wanted list for the murder of a military blogger FILE PHOTO. The site of the murder of military blogger Vladlen Tatarsky after the blast. © Sputnik / Alexey Danichev
Russia's Investigative Committee has placed Roman Popkov on its wanted list, saying it believes the Ukrainian-linked journalist was the mastermind behind the murder of prominent Russian military blogger Vladlen Tatarsky, who was killed in an explosion at a cafe in St. Petersburg in April.
Investigators said on Thursday that Popkov, who is believed to reside in Ukraine, was the main contact of Darya Trepova, the prime suspect in the assassination, who was taken into custody shortly after the blast.
"Popkov, according to the investigation, corresponded with Darya Trepova through social media networks and gave her instructions on the preparation of the terrorist act," the Investigative Committee said in a statement.
Popkov now faces charges of "organizing a terrorist act" – an extremely serious offense under Russian law. If found guilty, he could be sentenced to anything from 15 years to life in prison. Another suspect, Ukrainian national Yuri Denisov, remains on the wanted list in connection with the attack, the Committee noted.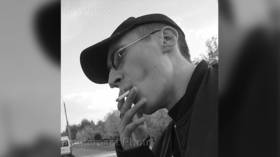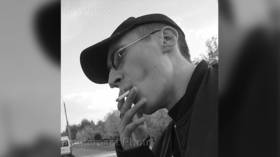 Vladlen Tatarsky (whose real name is Maxim Fomin) was killed on April 2 in a blast during an event at a cafe in central St. Petersburg. The explosion was caused by a device concealed within a bust of the blogger, brought to the event by Trepova. Apart from killing the blogger on the spot, the explosion also injured some 40 other people.
The new suspect, who is a former journalist with the MBKh Media outlet founded by exiled oligarch and staunch Kremlin critic Mikhail Khodorkovsky, was reported to be linked to the assassination of Tatarsky by Russian media shortly after the incident. According to earlier reports, Trepova told investigators that Popkov had "taught her journalism" at first but then asked her to carry out a task for a "contact" of his, believed to be an agent of the Ukrainian Security Service (SBU).
Popkov was also reported to be working for exiled former State Duma deputy Ilya Ponomarev. The latter, who also resides in Ukraine, has repeatedly threatened to launch a terrorist campaign against Russian officials, as well as actively cheering any shortcomings of Moscow's ongoing special military operation against Kiev and assorted incidents on Russian soil. (RT)
Azərbaycan24 sosial şəbəkələrdə