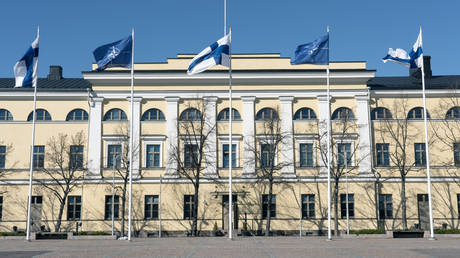 Finland has forfeited its role in international affairs, becoming yet another "minor" member of the US-led bloc, Russia says Finland and NATO flags waving at the Finnish Foreign Ministry in Helsinki on April 04, 2023. © Getty Images / Anadolu Agency / Jakob Johannsen
Helsinki's decision to join the NATO alliance will have a "negative effect" on its ties with Russia, the Russian Foreign Ministry has said. On Tuesday, Finland finalized its accession process, becoming the 31st member of the US-led military bloc.
The move will inevitably invoke Moscow's response, the ministry said, adding that Russia continues to see the bloc's expansion as a direct threat to its national security interests.
"As we have warned on multiple occasions, the Russian Federation will have to respond with military-technical, as well as other measures in order to address national security threats arising from Finland joining NATO," the ministry said in a statement.
So far, Moscow has refrained from announcing any concrete steps it will take in response to Finland's NATO accession. The response will depend "on the specific terms on which Finland joins NATO, including the deployment of NATO's military infrastructure and offensive weapons on its territory," the ministry explained.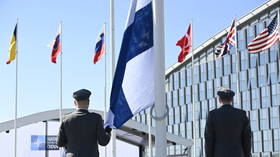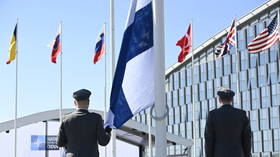 The latest expansion of the bloc has greatly damaged the security situation in the whole of Northern Europe, which for decades "used to be one of the most stable regions in the world," the ministry went on. "The line of contact between NATO and the Russian Federation's border has more than doubled," it added, referring to the length of direct land borders between Russia and NATO's member-states.
Apart from that, Helsinki's move has done harm to Finland's own international stance, Russian diplomats asserted. By joining NATO, Finland "has given up on its unique identity and lost its independence," forfeiting the "special status in international affairs" stemming from its decades-long policy of non alignment.
"Finland became a minor NATO member without the possibility to influence any decisions. It has lost its ability to have a say in international affairs," the ministry concluded. "Make no mistake, Finland's accession to NATO will have a negative effect on the bilateral relations between Russia and Finland." (RT)
Azərbaycan24 sosial şəbəkələrdə