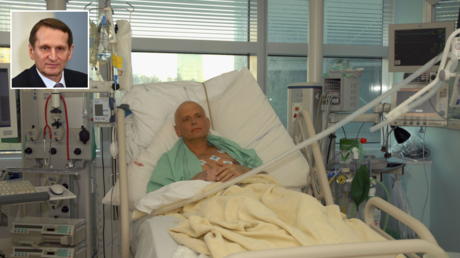 A new wave of claims attaching Russia to the alleged poisonings of ex-spies Alexander Litvinenko and Sergey Skripal in Britain are designed to distract attention from the West's own failures, Moscow's intelligence chief insists.
Speaking to reporters on Thursday, Sergey Naryshkin, the head of Russia's clandestine SVR agency, said that the timing of the latest charges, released simultaneously on Tuesday, made them suspect. "In my view, this is an attempt at a cover up, piling lie on top of lie," he said.
"In light of the recent events in Afghanistan, it is also probably part of an attempt to distract the public from the disgraceful flight of US troops and their allies, including the UK," Naryshkin added. "It distracts the public from the fact that, at present, NATO is unable to maintain security in one region of the world or another."
Also on rt.com ECHR rules Russia was responsible for death of Litvinenko, former FSB agent who defected to Britain's MI6 – Moscow denies role
The European Court of Human (ECHR) rights ruled on Tuesday that Russia had been behind Litvinenko's death in London in 2006. Investigators say he was poisoned with a rare radioactive isotope, Polonium-210, which they believe was slipped into his tea at a meeting in the British capital. A former security agent, he defected to the UK in 2000, having previously run agents in war-torn Chechnya throughout the bloody conflict in the region years prior.
The ECHR claims that two Russian citizens were behind the incident, and concluded that the pair had been "acting as agents of the Russian state." Moscow has consistently denied the allegations and, responding to the statement, Kremlin Press Secretary Dmitry Peskov called them "unfounded" and said that the judges had not been presented with hard evidence.
Later that day, British police also announced that they had charged a third Russian national for allegedly attempting to poison Skripal, another former intelligence officer, in Salisbury in 2016. Authorities have already accused two men, who they claim are Russian agents, of smearing the nerve agent Novichok onto the handle of the front door of Skripal's home. (RT)