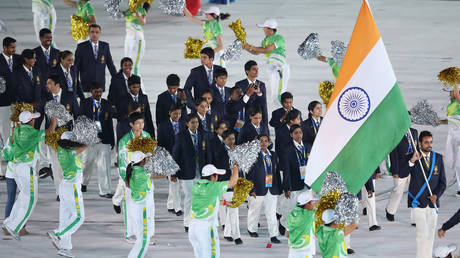 Competitors from India's Arunachal Pradesh, a territory claimed by China, were denied entry for the event in Hangzhou The athletes of India arrive during the Opening Ceremony celebrations on Day 0 of the 3rd Asian Beach Games Haiyang 2012 on June 16, 2012 in Haiyang, China. © Feng Li/Getty Images
India has lodged a strong protest with China for denying entry to three athletes from the northeastern state of Arunachal Pradesh, most of which is the subject of a territorial claim by Beijing.
The wushu martial arts competitors – Nyeman Wangsu, Onilu Tega, and Mepung Lamgu – were prevented from boarding a plane to China on Wednesday for the Asian Games, which begin in Hangzhou on Saturday. Other members of the team successfully made the journey via Hong Kong, Indian media reported.
Officials at the Games venue claimed that two of the three athletes had received e-accreditation, which serves as a visa, but could not download and validate it. The third individual was not accredited.
After failing to board the plane earlier this week, the three martial artists were brought back to a Sports Authority of India facility in New Delhi, where they currently remain. The wushu event at the Asian Games begins on Sunday.
Indian Foreign Ministry spokesperson Arindam Bagchi condemned the "differential treatment of Indian citizens on the basis of domicile or ethnicity," and accused the Chinese authorities of "discriminating" against sportsmen from Arunachal Pradesh.
He asserted that Arunachal Pradesh "was, is and will always remain an integral and inalienable part of India," and added that China's action "violates both the spirit of the Asian Games and the rules governing their conduct." Indian Youth Affairs and Sports Minister Anurag Thakur, who was planning to visit China for the Games, has canceled the trip.
China has neither confirmed nor denied the allegations. According to Jizhong Wei, a vice-president of the Olympic Council of Asia, the athletes were not denied a visa, but were given a "different kind of visa" which they "refused to take."
Asked about the trio at a regular Foreign Ministry briefing in Beijing, spokeswoman Mao Ning said: "As the host country, China welcomes athletes from all countries to the Games using legal identification. The Chinese government has never recognized so-called 'Arunachal.' The area of Zangnan is Chinese territory."
Last July, the Indian wushu team decided not to attend the World University Games in Chengdu, China, when the same three athletes were granted stapled visas instead of pasted ones. This underscored Beijing's stance of not recognizing India's territorial claims over Arunachal Pradesh.
In August, India lodged a protest with Beijing over a new "standard map," which shows the Indian state of Arunachal Pradesh and the Aksai Chin plateau as being parts of China. Border issues have overshadowed relations between the two countries since May 2020, when a violent clash erupted between Chinese and Indian troops in the Galwan Valley, resulting in the deaths of soldiers on both sid (RT)
Azərbaycan24 sosial şəbəkələrdə