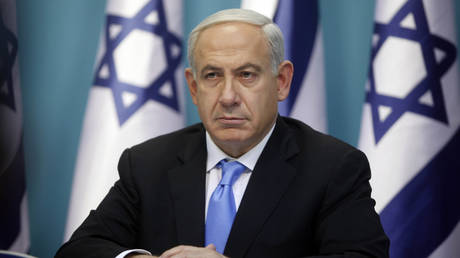 The move comes after a proposed overhaul triggered major demonstrations in Israel Israeli Prime Minister Benjamin Netanyahu. © Lior Mizrahi/Getty Images
Israeli Prime Minister Benjamin Netanyahu has softened his proposed reform to the judicial system following protests by hundreds of thousands of Israelis in the past two months. Netanyahu held a phone call with US President Joe Biden the day before announcing the step, with the American leader reportedly calling for compromise.
Netanyahu's coalition government issued a statement on Monday that contained several amendments to the original version of the legislation put forward on January 4. Among other things, the latest iteration envisages fewer government representatives in the Judicial Selection Committee – the body that appoints judges to Israeli courts – than was originally proposed.
The Israeli PM urged parliamentary opponents of the reform to abandon their plans to boycott ratification votes, and asked them to end their calls for further protests.
"We are extending a hand to anyone who genuinely cares about national unity and the desire to reach an agreed accord," the coalition government statement read.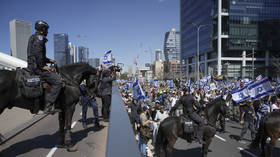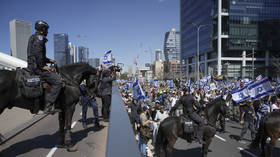 Netanyahu insists that he is seeking to ensure balance among government branches through his plan to change the way judges are selected, although critics have claimed the proposals risk limiting the independence of courts.
On Sunday, the White House said that President Biden had spoken by phone with Netanyahu, emphasizing that "democratic values… must remain, a hallmark of the US-Israel relationship." The US leader also stressed the importance of "genuine checks and balances" in a democratic society.
"The president offered support for efforts underway to forge a compromise on proposed judicial reforms consistent with those core principles," the statement added.
According to several media outlets, citing an anonymous US official, Biden had expressed "concern" over the planned overhaul of Israel's judicial system.
Appearing on a radio talk show on Friday, Netanyahu's son, Yair Netanyahu, compared the left-wing protesters to the paramilitary wings of the Nazis in Germany and fascists in Italy during the 1930s.
He accused the demonstrators of creating chaos in the streets, having previously branded them "domestic terrorists."
Israeli President Isaac Herzog warned in a video address last Wednesday that the nation risks sliding into civil war over the contentious judicial reform plan. Herzog suggested a set of alternative measures, which Netanyahu was quick to reject. (RT)
Azərbaycan24 sosial şəbəkələrdə