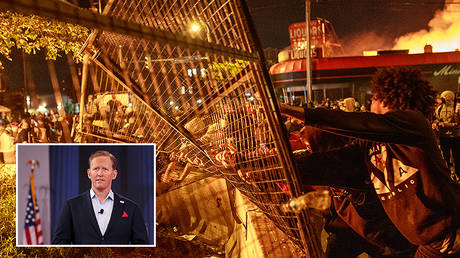 Former Navy SEAL Robert J. O'Neill has called the rioters looting the US' major cities "politically-funded terrorists," and called for a harsh military response. O'Neill isn't the only pundit who sees a dark hand behind the riots.
George Floyd, an unarmed black man, was pinned to the ground and apparently choked to death by Minneapolis police officer Derek Chauvin on Monday. Since then, riots have consumed the Minnesota city and spread like wildfire throughout the US. According to O'Neill – the Navy SEAL who shot Osama Bin Laden in the famous 2011 raid – the unrest is being orchestrated from behind the scenes.
"I despise racism, I despise police brutality and it kills me that politically-funded terrorists are doing this on the shoulders of both," he tweeted on Friday night "These are coordinated attacks, are we going to defend ourselves?"
O'Neill didn't suggest that the Democrat mayors of these cities are directly funding the destruction of their own hometowns, but hinted at that.
As O'Neill tweeted, throngs of protesters in Minneapolis defied a National Guard-enforced curfew and embarked on a fourth night of looting and arson. A police station was razed to the ground, and more retail outlets were stripped bare. Similar scenes played out in Detroit, Atlanta, New York, Los Angeles, Portland and a number of other urban areas. (RT)