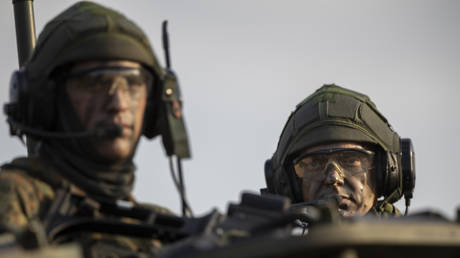 The US-led bloc is struggling with vague plans and poor logistics, Ben Hodges told the Washington Post German troops take part in a military exercise at the Gaiziunai training ground in Lithuania, October 8, 2022 © AP / Mindaugas Kulbis
NATO would not be able to move troops and equipment eastwards fast enough to stop a hypothetical Russian invasion of Europe, a retired US general has warned.
"Being faster than the Russians to get to a critical place is the only metric that matters for effective deterrence, and we still can't do that," Ben Hodges, a former commander of US Army Europe, told the Washington Post on Monday. "Military mobility is still a problem. It is better than it was five years ago, but that's not the metric that matters."
Almost one year earlier, NATO Secretary General Jens Stoltenberg announced that the bloc would increase its number of high-readiness troops from 40,000 to 300,000, without explaining which countries would provide these soldiers or pay for their deployment. All NATO has said is that 100,000 will be deployable within ten days and the rest within a month.
Estonian officials are unhappy with the arrangement, the newspaper reported, and are seeking guarantees that reinforcements would arrive "not when Russian aggression starts, but from the moment we see the first indicators and warnings," Estonian military chief Gen. Martin Herem told the Post.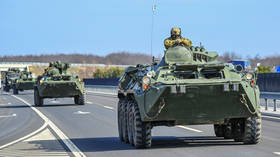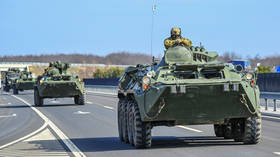 "If you look at a map, then how much of Estonia and for how long will we have to cede territory?" before NATO troops would arrive, Herem asked.
No matter how prepared the troops are, Hodges noted that NATO would struggle to get heavy equipment to the battlefield to back them up, as there are not enough bridges and tunnels wide enough to transport armored vehicles throughout Europe, nor enough train cars to carry them.
Some countries also doubt the commitment of their allies. Until NATO leaders work out a plan to field Stoltenberg's promised 300,000 troops, soldiers are stationed along Russia's borders under bilateral agreements. Germany leads a NATO battle group in Lithuania, but has opposed the creation of a permanent brigade there. This has led the Lithuanians to worry that if war were to break out, political disagreement in Berlin could delay the arrival of reinforcements, former NATO assistant secretary general Camille Grand told the Post.
Ukrainian officials have repeatedly claimed that Russian forces will continue to press into Europe unless Kiev is given enough Western weapons to fend them off, while Polish Prime Minister Mateusz Morawiecki claimed earlier this year that Moscow would follow its campaign in Ukraine with "the next offensive, potentially on the Baltic states, or Finland, or Poland, or Romania or Moldova, any other country bordering."
The Kremlin has never expressed any intention of striking NATO territory, a move that would instantly bring Russia into war with the entire alliance. Moscow has repeatedly warned the West against deepening its involvement in the conflict by supplying arms to Kiev, arguing that doing so will prolong the fighting while making NATO members de-facto participants. (RT)
Azərbaycan24 sosial şəbəkələrdə