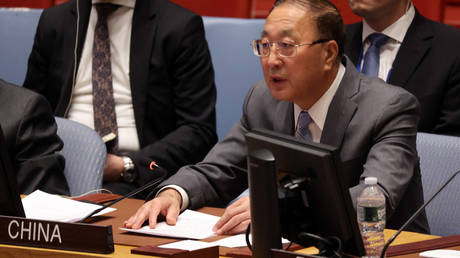 The bloc claims to be a defensive alliance but provokes confrontation, Beijing's UN envoy has said Ambassador Zhang Jun, Permanent Representative of China, speaks at a Security Council meeting on May 15, 2023 in New York City. © Spencer Platt / Getty Images / AFP
NATO is "the real troublemaker" that has fully embraced "Cold War thinking and ideological prejudice" as it continues to generate global tensions, China's permanent representative to the UN has said.
In a statement on Thursday, Zhang Jun hit back at the communique issued by NATO members at the Vilnius summit earlier this week, which accused China of pursuing "coercive policies" that challenge the bloc's interests. It also claimed that Beijing uses a wide array of tools to increase its global footprint and undermine the alliance's security.
The envoy rejected this as "slander" and the "smearing" of China, claiming that the US-led military bloc is still trapped in a Cold War mentality.
He recalled that, while NATO claims to be a regional organization, it violates this principle by entering the Asia-Pacific region and "bringing more negative impacts and destructive factors on regional and global security."
Zhang said that, although NATO claims to be a defensive alliance, it encourages its members to increase military spending, continue to cross borders, and provoke confrontation.
The bloc, he added, portrays itself as the champion of the 'rules-based international order,' but "has repeatedly violated international law…, interfered in the internal affairs of other countries, provoked many wars, bombed diplomatic facilities, [and] killed innocent civilians."
Individual NATO members pursue double standards, promote nuclear sharing, 'nuclear alliance', and further exacerbate regional tensions. Numerous facts have proved that NATO is the real troublemaker.
"China does not cause trouble, but it is not afraid of trouble," Zhang warned, adding that Beijing will resolutely oppose any encroachment on China's territorial integrity and national interests.
Zhang's remarks come after China's foreign ministry warned NATO against opening a liaison office in Japan, the first of its kind in the Asia-Pacific region. However, while Tokyo signaled that it was considering the idea, it was not mentioned in the NATO communique. According to Nikkei Asia, the relevant statement was removed from the final version of the document, with a decision on the matter deferred to a later date.
The apparent reversal came after France opposed the plan for a liaison office, fearing that the move would further antagonize Beijing. (RT)
Azərbaycan24 sosial şəbəkələrdə