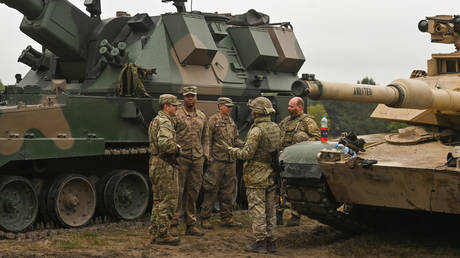 The US-led bloc is reportedly drawing up contingencies for a defensive "Article 5 conflict" and an "out-of-area" battle FILE PHOTO. US and British soldiers during a joint military exercise in Poland. © Artur Widak / Anadolu Agency via Getty Images
NATO is set to adopt a guidance that lays out plans for a scenario in which member states find themselves fighting on the home front and beyond the borders of the alliance at the same time, Bloomberg reported on Tuesday. This comes as the US increasingly shifts its priorities to confronting China.
The classified document is to be discussed and signed off on by NATO defense ministers during a two-day summit in Brussels that starts on Tuesday, the news outlet reported. Members will be asked to prepare national plans for future military engagements.
The guidance will map out ways for NATO to engage in a "high-intensity so-called Article 5 conflict" – defending a NATO nation attacked by a foreign party under the treaty's mutual defense provision – and "an out-of-area, non-Article 5 event." The contents of the guideline were revealed to Bloomberg by "people familiar with the matter."
While NATO bills itself as a defensive alliance, it has an extensive record of engaging in hostilities on foreign soil, including in Yugoslavia in the 1990s and against Libya in 2011. Critics regard the bloc as a tool of US foreign policy that is aligned with Washington's goals and in rivalry with China and Russia.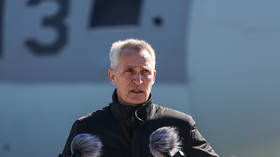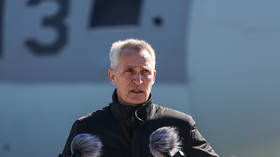 Read more
NATO launches new 'surveillance' network
"The Americans get what they were aiming for," Russian Foreign Minister Sergey Lavrov remarked in an interview earlier this month, discussing NATO's increasing reach. "There are military blocs being created against China and Russia in the Asian Pacific region, like AUKUS. There is a drive to drag new members into them."
The ability to fight a two-theater war was at the core of US military planning during the Cold War. Think tanks and US officials pushed the strategic objective of having a military force strong enough for two simultaneous ground conflicts, arguing for higher Pentagon budgets and against spending cuts.
According to Bloomberg's sources, NATO defense ministers will also discuss in Brussels a boost in military spending by member states. Countries that fail to meet the target of 2% of GDP would be pressured to accept this level as a mandatory floor rather than merely as a recommendation. Such a change may be adopted during a summit of NATO leaders in Vilnius in July, the outlet said.
The structure of spending would be pushed towards increased procurement of weapons by European allies, according to the article, since the US "may decide to move some of its assets" from the continent closer to China. (RT)
Azərbaycan24 sosial şəbəkələrdə