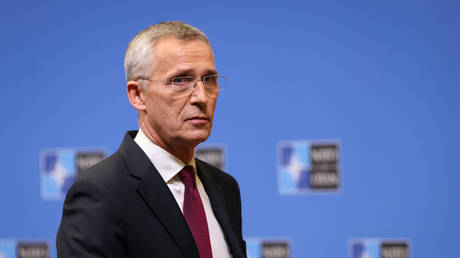 Jens Stoltenberg described such a scenario as undesirable, warning against settling for a peace deal "dictated" by Russia Secretary General Jens Stoltenberg during a press conference at NATO's headquarters on June 16, 2023, Brussels, Belgium © AFP / SIMON WOHLFAHRT/AFP
The ongoing conflict between Ukraine and Russia should not be paused at the current stage, but rather a just solution must be found, NATO Secretary General Jens Stoltenberg has said. He also expressed confidence that Kiev would one day join the US-led military bloc, adding, however, that this was not an immediate priority.
In an interview with Germany's Welt am Sonntag published on Sunday, Stoltenberg argued that, while "we all want this war to end," only a "just" peace can endure.
"Peace cannot mean freezing the conflict and accepting a deal that is dictated by Russia," he asserted, adding that "only Ukraine can define the conditions that are acceptable."
Stoltenberg called for "credible" security guarantees for Kiev once the conflict is over, "so that Russia cannot rearm and attack again."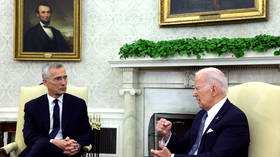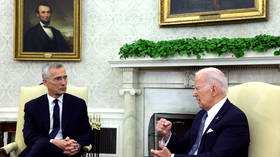 Asked about the prospect of Ukraine joining NATO, Stoltenberg predicted that this would happen at some point in the future. However, he said the current priority is ensuring that "Ukraine prevails as a sovereign and independent state."
He also revealed that current member states are planning to adopt an aid package for Kiev during the alliance's upcoming summit in Vilnius next month. The goal is to help Ukraine bring its military in line with NATO standards over several years, he explained.
Last month, Kremlin spokesperson Dmitry Peskov told TASS news agency that Moscow was "in solidarity" with the West to the extent that the conflict in Ukraine cannot be frozen.
He said the only option that Moscow is currently considering is "completing the special military operation," which means securing Russia's interests and achieving its goals.
Peskov also expressed skepticism over the possibility of peace talks between the two countries at this point.
"It is unlikely that we can talk about real negotiations with any of the representatives of the current Kiev authorities, because there [in Ukraine], any negotiations with the Russian Federation are simply prohibited now," the Kremlin spokesperson explained.
In May, German Chancellor Olaf Scholz said any peace talks could not aim to freeze the conflict in Ukraine.
Meanwhile, Politico, citing anonymous sources, reported that US President Joe Biden's administration was considering putting the fighting on hold instead of pushing for Ukraine's victory. Officials in Washington have reportedly envisaged a situation akin to that in existence between North and South Korea.
Azərbaycan24 sosial şəbəkələrdə