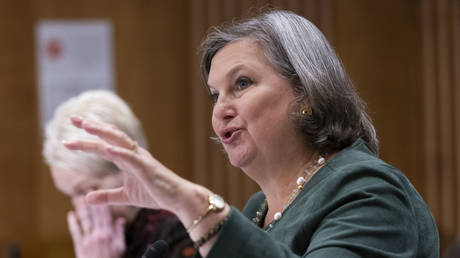 The Twitter tycoon singled out Victoria Nuland as the most pro-war voice in Washington Victoria Nuland testifies before a Senate Foreign Relations Committee on Capitol Hill in Washington, DC, January 26, 2023 © AP / Manuel Balce Ceneta
"Nobody is pushing" the conflict in Ukraine more than US State Department official Victoria Nuland, Twitter CEO Elon Musk said on Wednesday. Nuland, who largely orchestrated the pro-Western coup in Kiev in 2014, is now backing military strikes on the Russian territory of Crimea.
Nuland's declaration last Thursday that Russian military bases in Crimea are "legitimate targets" for Ukrainian forces was received by the Kremlin as proof of "US involvement in the Ukraine conflict." In a post on Telegram, former Russian President Dmitry Medvedev warned that Moscow would respond to such attacks "using weapons of any kind."
"Nobody is pushing this war more than Nuland," wrote Musk, who has previously warned that nuclear war could break out unless Ukraine abandons its claims to Crimea and both sides agree to peace talks.
Nobody is pushing this war more than Nuland

— Elon Musk (@elonmusk) February 22, 2023
Nuland's involvement in the Ukraine conflict predates Russia's military operation, ordered one year ago on Friday by President Vladimir Putin.
As assistant secretary of state for European and Eurasian Affairs in 2014, Nuland helped organize the coup that saw Ukraine's democratically-elected president, Viktor Yanukovich, replaced with the pro-Western Pyotr Poroshenko, who then began a campaign of military repression against the people of Donetsk and Lugansk.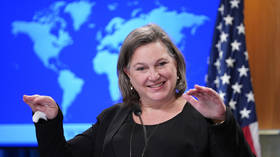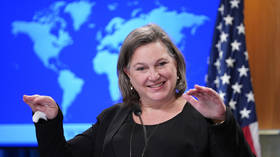 During the coup, Nuland handed out cookies to protesters in Kiev and promised pro-Western politicians military aid and a billion-dollar loan guarantee program. In an infamous leaked call between Nuland and then-US Ambassador to Ukraine Geoffrey Pyatt, the two discussed which person should replace Yanukovich from a list of opposition politicians.
After leaving the State Department during Donald Trump's presidency, Nuland is now serving as President Joe Biden's deputy secretary of state for political affairs. In recent months, she has endorsed regime change in Russia, celebrated the US' alleged destruction of the Nord Stream pipelines, and called for the indefinite flow of arms into Ukraine.
Musk is not the only prominent American to condemn Nuland's role in instigating the conflict in recent days. In a campaign video released on Tuesday, former President Donald Trump called Nuland and "others like her" in the Biden administration "warmongers and 'America Last' globalists." Nuland was "obsessed with pushing Ukraine towards NATO," he declared, claiming that the conflict would have "never happened if I was your president." (RT)
Azərbaycan24 sosial şəbəkələrdə