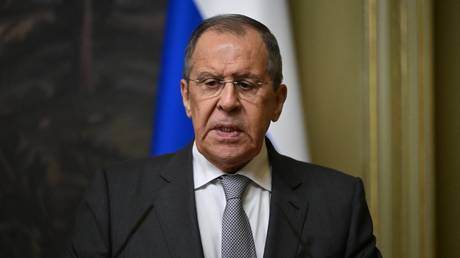 Deliveries of F-16 jets to Kiev would be "an unacceptable escalation," Russian Foreign Minister Sergey Lavrov says Russian Foreign Minister Sergey Lavrov © AFP / Kirill Kudryavtsev
The US and its allies are "playing with fire" by doubling down on their support for Kiev amid the conflict with Moscow, including by planning to provide Ukraine with F-16 fighter jets, Russian Foreign Minister Sergey Lavrov has said.
"Of course, it's an unacceptable escalation" Lavrov said regarding potential deliveries of American-made warplanes to Kiev in an interview with Russia 1 TV on Sunday. "I think there are reasonable people in the West who understand this. But everything is being dictated by Washington, London, and their satellites inside the EU."
According to the minister, it is Poland and the Baltic States – Latvia, Lithuania, and Estonia – that are "executing on the ground the aim set by the US to weaken Russia, deliver it a strategic defeat."
Some in the West "are already discussing 'decolonization' of Russia, meaning the dismembering of our country," Lavrov said, warning that "this is playing with fire. There can be no doubts about that."
"I hope reasonable people will step away from unconditional support for the neo-Nazi regime that the West itself created," he added.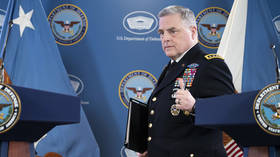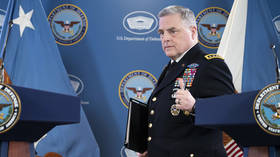 The foreign minister suggested that the words of the chairman of the US Joint Chiefs of Staff, General Mark Milley, who acknowledged earlier this week that "in the near term," Ukraine will not be able to recapture the territories it lost to Russia, were a "step forward to understanding the reality on the ground."
Ukrainian President Vladimir Zelensky has been pressing his Western backers for F-16 warplanes for months, arguing they are crucial for defending Ukrainian airspace amid Russia's missile campaign targeting military facilities and energy infrastructure.
At the G20 summit last week, US President Biden Joe Biden said that Washington would support efforts by the UK, the Netherlands, and other European countries to train Ukrainian pilots to fly the F-16. White House National Security Advisor Jake Sullivan stated at the event that the US "will work with our allies to determine when planes will be delivered, who will be delivering them, and how many."
Several outlets reported that the jets will not be provided by the US, but that the Biden administration would instead allow its allies to transfer their F-16s to Kiev.
Moscow has repeatedly warned that deliveries of more sophisticated weapons to Ukraine by the US and its allies could cross its 'red lines', leading to a major spike in the hostilities. Russia has said that the provision of arms, intelligence sharing, and training to Kiev's troops makes Western nations de facto parties to the conflict. (RT)
Azərbaycan24 sosial şəbəkələrdə