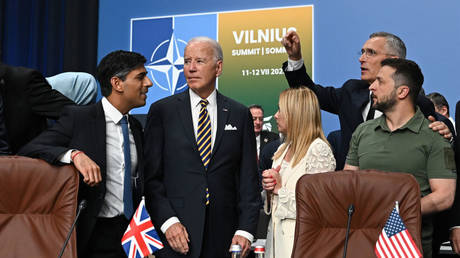 The US-led military bloc seeks global hegemony, the Russian Foreign Ministry has said UK PM Minister Rishi Sunak, US President Joe Biden, Italian PM Giorgia Meloni, NATO Secretary General Jens Stoltenberg and Ukrainian President Vladimir Zelensky in Vilnius, Lithuania, July 12, 2023. © Paul Ellis – Pool/Getty Images
The North Atlantic alliance intends to use Ukraine as a proxy for endless war while expanding into the Arctic and Asia in pursuit of neocolonial objectives, the Russian Foreign Ministry said on Wednesday, after a NATO meeting wrapped up in neighboring Lithuania.
"The 'collective West' led by the US is not willing to accept the formation of a multipolar world and intends to defend its hegemony by all available means, including military ones," the ministry said in a statement.
What the West calls the "rules-based order" is nothing but a "license they granted themselves to violate international law," and has nothing to do with the UN, which NATO frequently invokes, according to Moscow.
"NATO's achievements are well known: the growing instability, destruction of countries, rampant terrorism, war crimes that are committed with impunity, the blood of civilians, including children, and the endless flow of refugees," the Russian Foreign Ministry said.
The bloc is now determined to "NATO-ize" Ukraine, treating the country as an expendable resource in a hybrid war against Russia, supplying Kiev with long-range weapons in order to prolong the conflict for as long as possible, the ministry added. Meanwhile, the US military-industrial complex is "happily rubbing its hands" at the prospect of selling its European allies replacements for weapons destroyed in Ukraine, at exorbitant prices.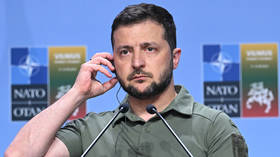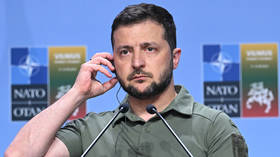 Read more
Timofey Bordachev: Here's why the US will almost certainly never allow Ukraine to join NATO
The ministry stated that the Western alliance was working to "ensnare" Georgia, Bosnia and Herzegovina, and Moldova, as well as looking to turn the Arctic into "a zone of confrontation," and to expand beyond the North Atlantic to the Middle East, North Africa, and Asia-Pacific, in pursuit of a "global NATO."
"Washington and its allies are trying to impose their own rules and drain resources along their to proven neocolonial patterns," the Russian Foreign Ministry said.
The ministry said Russia will respond to threats "in a timely and appropriate manner, using all means and methods at our disposal," the statement concluded.
The Russian government sent a comprehensive security proposal to the US and NATO in December 2021, asking the bloc to withdraw its troops from Eastern Europe and guarantee Ukraine's neutrality. Both Washington and NATO rejected Moscow's request in January 2022. Russia views the bloc's eastward expansion as a threat and has cited its ties with Kiev as one of the root causes of the armed conflict with Ukraine. (RT)
Azərbaycan24 sosial şəbəkələrdə