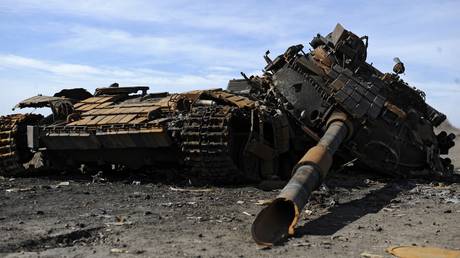 The US and allies must address Russia's security concerns and their past deceptions on Donbass, the Kremlin says FILE PHOTO: Burnt military equipment in Donbass. © Sputnik / Sergey Averin
US-Russia relations are at their lowest point ever amid the crisis in Ukraine, Kremlin spokesman Dmitry Peskov said on Friday. As the conflict deteriorates, the only way to reverse it is for Western nations to acknowledge their mistakes and change their policies, he added.
Despite initial hopes that under President Joe Biden the US would engage Russia diplomatically, the last two years "have been very bad for our bilateral relations," the official told journalists. They are now "probably at their lowest point, historically" he added, and "there is no hope for improvement anytime soon."
The Ukraine hostilities – the focus of the confrontation between Russia and Western nations – are in "an upward spiral" according to Peskov.
"We can see a growing indirect, and sometimes direct involvement of NATO nations in this conflict," he stated. The nations that back Kiev are acting under "a delusion that Ukraine has any chance to win on the battlefield," he explained.
Asked how the vicious circle could be broken, Peskov suggested that the US and its allies had to mentally turn the clock back to the end of 2021, "when Russia was suggesting a discussion of its concerns at the negotiations table" only to be dismissed.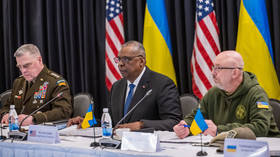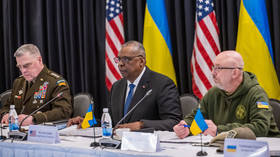 Read more
Pentagon wants Kiev's backers to 'dig deeper'
Western repentance for its "cynicism" was also in order, he added.
"Germany, France and Ukraine were playing a swindle game with the Minsk agreements. Now is payback time," he said, referring to the roadmap for Ukraine reconciliation, which the three nations signed with Russia in 2015.
Angela Merkel, Francois Hollande and Pyotr Poroshenko, the leaders at the time of Germany, France and Ukraine respectively, have since stated that the deal they negotiated with Russia was meant to give Kiev time to rebuild its military.
Moscow considers these admissions to be evidence that the negotiations were conducted in bad faith and that the Ukrainian government and its backers had always intended for the Minsk agreements to fail and for the Donbass standoff to be resolved by military means. Russia claimed that its military campaign in Ukraine launched last February preempted an offensive planned by Kiev with NATO's help.
Ukraine, Germany, and France "lied to the people of Donbass, as they had a terrible fate planned for them, which Russia prevented," Peskov explained. (RT)
Azərbaycan24 sosial şəbəkələrdə