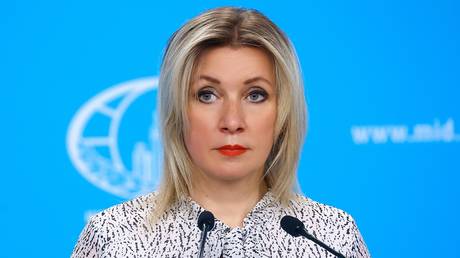 Josep Borrell is ignorant of geopolitics, the Russian Foreign Ministry has suggested Russian Foreign Ministry's spokeswoman Maria Zakharova © Russian Foreign Ministry / Sputnik
EU foreign policy chief Josep Borrell betrayed a colonial mindset and a lack of geopolitical understanding when he dismissed a Chinese peace plan for Ukraine as "wishful thinking," Russian Foreign Ministry spokeswoman Maria Zakharova has claimed.
The Russian diplomat criticized Borrell on Friday for remarks he made earlier in the day at an event in the Italian city of Florence. The EU official had claimed that conditions set out by Ukrainian President Vladimir Zelensky were the only viable path to resolving the conflict with Russia, and rejected a Chinese proposal unveiled in February as "not a peace plan."
"Not taking seriously proposals formulated on behalf of one fifth of the planet's population and the leading world economy – that can only come from either a person who knows nothing about geopolitics, or someone with a colonial mentality who doesn't respect people they consider beneath themself," Zakharova insisted, referring to Borrell.
The Russian diplomat described Zelensky's conditions for peace as "an American guidebook for inciting conflict in Europe," suggesting that Borrell was advocating Kiev's position under pressure from Washington.
"If the EU were in a position to have its own opinion, it would not be in the situation it is in today," she remarked.
Moscow considers the conflict with Ukraine to be part of a proxy war waged against it by Washington. The EU, which followed the US lead in imposing sanctions on Russia and sending weapons to Kiev, does not decide its own foreign policy and has consequently sacrificed the national interests of member states, Russian officials have argued.
Borrell faced accusations of racism last year after describing Europe as a "garden" and most other parts of the world as a "jungle." He denied that the metaphor was intended to have colonialist connotations, but nonetheless apologized. (RT)
Azərbaycan24 sosial şəbəkələrdə