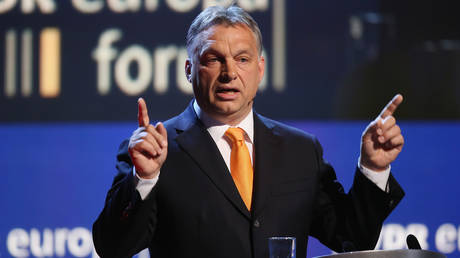 Statements are repeated over and over in Brussels, but are not followed by any action, the Hungarian prime minister says Hungarian Prime Minister Viktor Orban. © Sean Gallup/Getty Images
The European Union is losing its competitiveness and needs more people with commitment and passion, Hungarian Prime Minister Viktor Orban has claimed, according to local media.
There is an increasing amount of "blah blah" in EU politics, the Eurosceptic premier claimed on Friday after a meeting in Budapest with Santiago Abascal, the leader of Spanish far-right Vox party.
Orban said politicians in Brussels repeat things, the meaning of which "we don't even know," again and again, but there is no action at the end.
According to the Hungarian prime minister, the EU needs politicians "who want something, who still have energy, dedication and passion." In his view, those who think along such lines should work together.
Commenting on his meeting with Abascal, he said the two politicians agreed to continue cooperation between Spain's Vox party and the Orban-led right-wing Fidesz party.
"We would like to see a right-wing turn in Europe as well," Orban was quoted as saying.
One of the most vocal critics of EU policies, the Hungarian leader has lately been at odds with Brussels over a number of issues, including sanctions against Russia over the conflict with Ukraine. Orban has described the measures as "miscalculated" and warned they could destroy Europe's economy instead of forcing Moscow to change course. (RT)
Azərbaycan24 sosial şəbəkələrdə