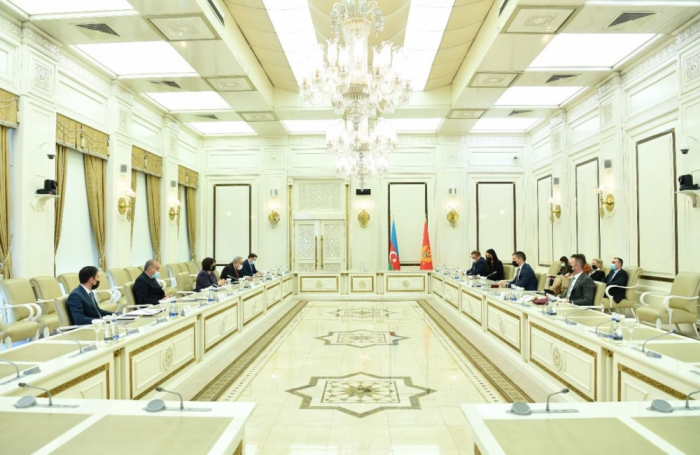 Montenegro intends to broaden its cooperation with Azerbaijan, said President of the Montenegrin Parliament Aleksa Bečić as he met with Speaker of Azerbaijani Milli Majlis Sahiba Gafarova.
Speaker Gafarova hailed the successful development of Azerbaijani-Montenegrin relations, adding that the cooperation between the two countries in the political, economic, cultural and humanitarian fields is also developing.
"The two presidents' reciprocal visits and conversations had created a momentum behind our relations' advancement whilst the inter-state documents signed to date had formed the relations' legal foundation," Gafarova said.
"The two parliaments are contributing to the promotion of our relations in their own special way; both have the friendship groups in action and their work matters much in terms of experience and legislative information exchange. The regular two-way trips of the legislators, in turn, are important for discussion of the issues of mutual interest. Our parliaments' interaction under the aegis of international organizations is praiseworthy as well," the speaker pointed out.
"Under the leadership of Victorious Commander-in-Chief, President Ilham Aliyev, Azerbaijan had recovered its lands from the Armenian occupation in the 44-days Patriotic War whilst also having enforced the resolutions of the UN Security Council that had merely remained on paper for long," she said.
Speaker Gafarova informed Aleksa Bečić about the outcomes of the thirty-year-long occupation of the Azerbaijani lands by Armenia. "Restoration and construction work is underway in those provinces now. As the president of Azerbaijan has said, we want to speak of peace and not war in our portion of the Caucasus; we hope that a peace treaty is going to be signed soon," she said.
Bečić said he was pleased with his visit to Azerbaijan. "The meetings and discussions that lie ahead in its course will bear well on the deepening of the bilateral relations especially as there are fine opportunities to strengthen the cooperation in every area further," Bečić noted.
Bečić emphasized that "Montenegro has always supported Azerbaijan's territorial integrity and sovereignty invariably and was a friend of Azerbaijan. He congratulated the Azerbaijani people on the achievements of their country.
He thanked the Azerbaijani side for the assistance to Montenegro in countering the COVID-19 pandemic. "The growing intensity of the linkage between the two countries' legislative bodies will have a benevolent effect on the increment of our relations in the other areas," the President of the Montenegrin Parliament said.
The sides also discussed the prospects of the inter-parliamentary relations, the Azerbaijani and Montenegrin MPs' interaction and mutual assistance in international organizations, as well as the importance of continuing this collaboration.
Head of the working group for inter-parliamentary relations with Montenegro Igbal Mammadov, Head of Parliament's Apparatus Safa Mirzayev, Ambassador of Montenegro to Azerbaijan Periša Kastratović and other officials also attended the meeting.