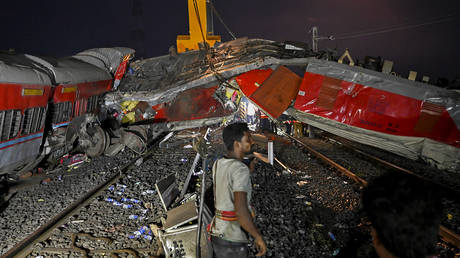 The triple-train accident opens a can of worms about the lack of a key safety mechanism By Joydeep Sen Gupta, Asia Editor© PUNIT PARANJPE / AFP
A horrific train accident in the eastern Indian state of Odisha has revived the raging debate about the lack of safety mechanism for the state-run transporter, despite an improved record since 2017.
It's still unclear whether a technical glitch or a human error led to the accident. A probe panel, led by Anant Madhukar Chowdhary, Commissioners of Railway Safety (CRS), Southern Circle, has been set up to find out the exact cause. An early report by Ministry of Railways supervisors suggests it could have been a signaling error.
This is India's worst train accident in the current century. Blood on the tracks has often been a feature for the country's second-largest public service employer with an estimated staff strength of 1.4 million. Typically, Indian Railways' impressive facts and figures as the fourth-largest national railways system in the world by size — after the US, Russia and China — have glossed over its checkered safety record in its 169-year-old history.
Automated safety push
India's right-wing Bharatiya Janata Party (BJP) government, led by Prime Minister Narendra Modi, took a significant step towards enhancing the safety of train operations in the country after he came to power in 2014. On March 23, 2022, India's Ministry of Railways announced the development of the indigenous Automatic Train Protection (ATP) System called Kavach to ensure "zero accidents".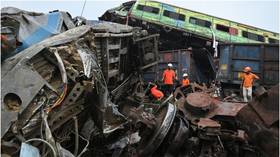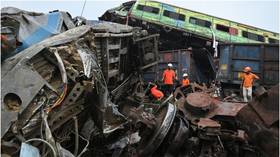 Read more
India suffers its most horrific rail accident in decades
The mechanism has been developed in collaboration with three Indian vendors by the Ministry of Railways' Research Designs and Standards Organisation (RDSO). Kavach has been adopted as the National ATP System for Indian Railways. It is designed to assist locomotive pilots in avoiding passing stop signals without authorisation and overspeeding while also providing support for train operations during adverse weather conditions such as dense fog and poor visibility due to heavy rainfall in a bid to avoid potential accidents.
The key features of the Kavach system include automatic brake application in case the loco pilot fails to act. It provides line-side signal display in the cabin for improved visibility in foggy conditions and at higher speeds, continuous updating of movement authority, automatic whistling at level crossings, collision avoidance through direct loco-to-loco communication, and an SOS feature to control trains in emergency situations.
Initially, trials of Kavach were conducted on the Lingampally–Vikarabad–Wadi and Vikarabad–Bidar sections of South Central Railway, covering a distance of 250 km. Later, three vendors were approved for further developmental orders on the Indian Railways network. The total expenditure incurred on the development of Kavach is pegged at 168.8 million rupees ($2.05 million), according to Ashwini Vaishnaw, India's Minister of Railways and Communications and Electronic & Information Technology.
Why was Kavach missing in action in Odisha?
Indian Railways' spokesperson Amitabh Sharma said Kavach, was not available on the Odisha route.
Out of the total of more than 68,000 km of India's railroads, around 2,000 km have been brought under Kavach for safety and capacity augmentation in the financial year of 2022-23 as part of PM Modi's ambitious "Atmanirbhar Bharat" ("Self-reliant India") program, according to the Ministry of Railways. Kavach has been commissioned on 1,098 km and 70 locomotives by the South Central Railway. By next year, the safety system is expected to be implemented on 3,009 km on the Delhi-Mumbai and Delhi-Howrah corridors, covering Northern, North Central, East Central, Eastern, West Central and Western Railways, of which the Odisha route is an integral part of.
The system prevents trains from bypassing danger signals and avoiding collision, which is what appears to have happened in the Friday accident. Kavach automatically activates the train braking system if the driver fails to control it as per the speed restrictions. Besides, it prevents collision between two locomotives equipped with a functional Kavach system.
Read more
Putin expresses condolences following India railway tragedy
The rail authorities say that Kavach is one of the cheapest certified technologies of its kind and has the probability of error being one in 10,000 years, opening potential avenues of export of this state-of-the-art technology.
Massive boost to rail infrastructure
The Odisha train tragedy occurred around four months after India's finance minister Nirmala Sitharaman allocated 2.4 trillion rupees ($29 billion) in this year's federal budget for railways to ramp up the state-run transporter's infrastructure amid the government's massive investments in capital expenditure for an infrastructure push. Modi has been pulling out all stops to allocate resources as India aims to become a developed nation by 2047.
Rail safety improving?
Indian railways, which carry millions of people across the country each year, have substantially improved their safety record in recent years, according to a 2021 press release by the Ministry of Railways. As Vaishnaw told the Lok Sabha – the lower House of Indian Parliament – at the time, the number of train accidents in the country has shown an appreciable decline, from 104 "consequential train accidents" in 2016-17, to 22 in 2020-21, Vaishnaw had informed the Lok Sabha – the lower House of Indian Parliament – at the time. For two consecutive years, from 2019-20 to 2020-21, no loss of life was reported. In contrast, in 2016-17, 195 people had lost their lives in train accidents.
"Safety is accorded the highest priority by Indian Railways and all possible steps are undertaken on a continuous basis to prevent accidents and to enhance safety," the minister told the Lok Sabha. "The steps taken to check accidents include timely replacement of overaged assets, adoption of modern technologies for upgradation and maintenance of track, rolling stock, signaling and interlocking systems, safety drives, greater emphasis on training of officials and inspections at regular intervals to monitor and educate staff for observance of safe practices," he said.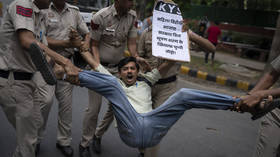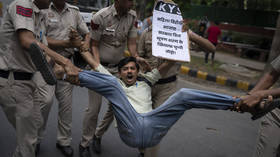 Read more
Indian government faces rising protests over sexual assault claims against MP
"Safety devices/systems being used to prevent accidents include complete track circuiting, provision of Block Proving Axle Counters (BPAC), Auxiliary Warning System (AWS), Colour Light LED Signals, Vigilance Control Device (VCD), usage of 60kg rails and Pre-stressed Concrete Sleepers, long rail better welding technology and accelerated induction of Linke Hofmann Busch (LHB) Coaches," he added.
However, data in the 2022 report by the Ministry of the Interior's National Crime Records Bureau sharply contradicts the Railway Minister's statement, outlining a 38.2% spike in railway accidents in 2021 compared to the previous year, with a total of 17,993 accidents causing injuries to 1,852 persons and 16,431 deaths.
An analysis of 1,129 inquiry reports by the Comptroller and Auditor General (CAG) – the country's top auditor – has revealed that seven in 10 railway accidents that occurred between 2018 and 2021 were due to derailments caused by a raft of factors such as track defects, maintenance issues and operating errors. The analysis attributed 26% of derailments to an acute shortage of funds coupled with non-utilization of the allocated sum by the government during this four-year period.
This disturbing data is brought up every time a horrific accident such as the Odisha rail tragedy occurs. However, a careful look at the data reveals that India's rail safety record, which was abysmal in the last century, has improved by leaps and bounds amid more investments in both infrastructure and technology along with better utilization of funds during the BJP regime, as compared to the erstwhile Indian National Congress rule that was often marked by endemic corruption.
Kavach could be the game-changer to prevent large-scale accidents like the Odisha one, which are often caused by technical glitches and human error. However, there is no quick fix for the years of neglect that have degraded the tracks' condition, and with 13 million passengers traveling on Indian trains daily and eight billion every year, by the sheer law of probability tragedies like in Odisha are bound to happen.
The statements, views and opinions expressed in this column are solely those of the author and do not necessarily represent those of RT.
Azərbaycan24 sosial şəbəkələrdə