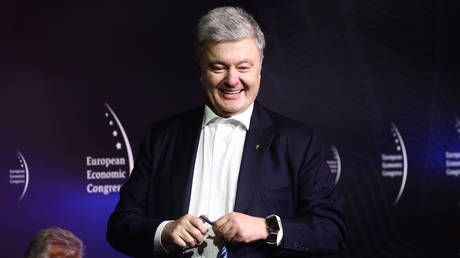 Pyotr Poroshenko has said he turned to NATO to prepare for war instead of implementing the peace roadmap FILE PHOTO: Former President of Ukraine Pyotr Poroshenko. © Jakub Porzycki / NurPhoto via Getty Images
Former Ukrainian President Pyotr Poroshenko has boasted about his role in rebuilding his country's military under the cover of the Minsk agreements. The documents were supposed to reconcile Kiev with eastern regions that had not endorsed the 2014 Western-backed coup.
"Do you know how many battalions I had north of Kiev when I became president? Zero. What about the state budget? Below zero. What about working tanks? A pittance," the former leader said, describing the state of Ukraine nine years ago in an interview with Italy's Corriere della Sera newspaper published on Monday.
Poroshenko took office in June 2014, as the post-coup Ukrainian government was attempting to quash a rebellion in Donetsk and Lugansk Regions with military force. The two Minsk agreements were adopted with Poroshenko at the helm. They were supposed to de-escalate the conflict and reintegrate the regions into Ukrainian political systems under wide autonomy, but Kiev stonewalled their implementation.
Instead, Poroshenko told the newspaper that his government had opted for a military buildup with the help of foreign sponsors.
"Immediately after the signing, I invited NATO instructors, bought weapons and vehicles. During my presidency we built an army," he declared.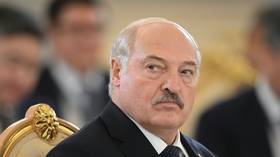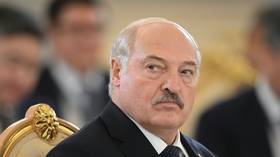 Read more
Russia should have launched Ukraine operation in 2014 – Lukashenko
The former president insisted that this had allowed Ukraine to prepare for the current confrontation with Russia. Moscow cited Kiev's failure to implement the Minsk accords, its continued attacks on Donetsk and Lugansk, as well as NATO's encroachment into Ukraine as key reasons for the launch of its military operation in February 2022.
Russian officials have claimed that the Minsk agreements, which were mediated by France and Germany, were negotiated in bad faith. Former French President Francois Hollande and ex-German Chancellor Angela Merkel have since confirmed that the deals were intended to buy time for Kiev.
Poroshenko suffered a landslide defeat to Vladimir Zelensky, the current president, in the 2019 election. The comedian-turned-politician promised to reverse his predecessor's bellicose policies and reconcile with Donbass. However, Zelensky performed a U-turn after coming to power, as extremist nationalist forces objected to any attempts to negotiate.
In the interview, Poroshenko endorsed the opinion of Belarusian President Alexander Lukashenko, who argued last week that Minsk and Moscow should have "resolved" the Ukrainian situation in 2014-2015, instead of pursuing diplomacy. Poroshenko implied that his government would have been toppled in that scenario. (RT)
Azərbaycan24 sosial şəbəkələrdə