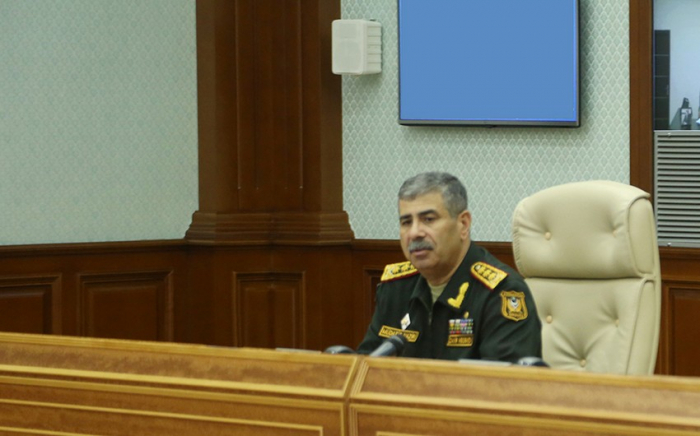 On November 20, the Minister of Defense, Colonel General Zakir Hasanov held an official meeting at the Central Command Post.
Deputies of Minister of Defense, Commanders of types of troops, Chiefs of Main Departments, Departments, and Services of the Ministry attended the meeting. Commanders of the Army Corps and formations stationed in the liberated territories and other officers were also involved in the meeting via video teleconference.
First, the memory of the Azerbaijan Army servicemen who became Shahids (Martyrs) during the suppression of the provocation committed by the Armenian armed forces on the Azerbaijani-Armenian state border was honoured with observing a minute of silence.
The Minister of Defense conveyed to the meeting participants the tasks assigned to the Azerbaijan Army by the President of the Republic of Azerbaijan, Supreme Commander-in-Chief of the Armed Forces, Mr Ilham Aliyev.
The meeting analyzed the situation on the state border and in the territory of Azerbaijan, where the Russian peacekeeping contingent is temporarily deployed, in particular, the battles that occurred as a result of provocations committed by the opposing side in the Kalbajar and Lachin sections of the state border.
It was noted that in recent days some social network users have been sharing non-official photos and video footage regarding combat operations on the state border, which causes serious concern to the leadership of the Ministry of Defense. As a result of the activities carried out by the command staff of the Azerbaijan Army, a group of servicemen, who grossly violated the confidentiality regime by posting such publications, was identified. A decision was made to discharge these servicemen from the army, the collected materials were sent to law enforcement agencies to give a legal assessment of the acts committed by them.
The Minister gave relevant instructions on improving service and combat activities on the state border.
Having assigned tasks on strengthening the logistics and engineering support of the units in relation to the winter period, including improving the service conditions and medical support of military personnel, the Minister gave instructions to complete the work on the transfer of weapons and military equipment into the winter operation mode.
During the meeting, the work done due to the attention and care of the state administration in the direction of further improvement of social and living conditions and the moral-psychological state of servicemen was emphasized.
The Minister of Defense gave instructions on maintaining a high level of combat capability of the troops, increasing the vigilance of military personnel, observing safety rules, as well as clarifying combat training plans.
At the meeting, the importance of organizing troops' service in military units, stationed in the liberated territories, clearing the areas from mines and unexploded ordnance, improving military infrastructure, as well as keeping roads in mountainous areas in constant working conditions was emphasized.